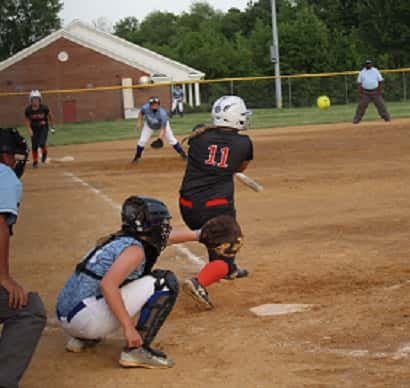 After both regularly scheduled softball games between Grayson County and Whitesville Trinity were postponed because of weather, and with the District Tournament scheduled to begin next week, it was decided the two teams would play a double-header in Whitesville on Tuesday to get the games in.
The Cougars had already clinched the number-one seed, but the games were important to Trinity because if they should sweep, they would have the same district record as the Cougars.
That never came into play, though, as the Cougars took both ends of the twin bill to finish with a perfect 6-0 12th District record. Grayson County got a three-hit shutout from Embry Thorpe in the first game to win 4-0.
The second game was much tighter, though the Cougars scored twice in the bottom of the sixth inning to win 8-6.
GAME ONE
The Cougars scored all they would need with a three-run first inning against Trinity starter and loser, Nina Wathan. Back-to-back, one-out singles by Thorpe and Mikayla Clark set the stage for Bailey Snyder's bases-clearing double that made it 2-0. Wathan pitched well for Trinity in a losing effort, allowing just seven hits while striking out a pair.
A wild pitch advanced Snyder to third base before Maddie Duvall brought her home with a sacrifice fly to center that made it 3-0.
The Cougars added their final run after two were out in the fifth inning. Thorpe singled and was replaced on the bases by Shelbi Fisher, who quickly moved to second on another wild pitch. Clark followed with a low line drive to right that eluded a diving try by Avery Barnett and rolled to the fence for a run-scoring triple.
That was it for the scoring. The Raiders had runners at first and second with two outs in the third, but Thorpe got Savannah Aull to ground out to end the inning. A bunt hit and an error put Raider runners at second and third in the sixth inning, again with two outs, before Thorpe retired Wathan on a come-backer to snuff the threat.
Thorpe then worked a 1-2-3 seventh to turn out the lights.
GAME TWO
Clark started for the Cougars in the second game and she gave up a run in the top of the first on a leadoff single, a sacrifice, an infield single and a ground out.
But the Cougars made it look as though the game would be a runaway as they scored five times against starter Brittney Rudisell in their half of the first. Kenzie Renfrow singled leading off, then stole second base. Thorpe brought her home to tie it 1-1 with a line-drive double to the fence in left center
Clark singled into the hole at short to put runners at the corners for Bailey Snyder. After working the count to 2-2 and fouling off several pitches, Snyder timed a pitch perfectly and sent it over the fence in left field for a three-run home run that made it 4-1. In both games, Snyder totaled four hits and five funs driven in.
Duvall walked and moved to second on a wild pitch. When Rudisell hit Rachael Snyder with a pitch to put runners at first and second, the Raiders made a pitching change, bringing in seventh-grader Allie Barnett.
Barnett was able to put out the fire by retiring the next three batters but not before Duvall had come in to score on a wild pitch that made it 5-1.
The Cougars made it 6-1 in the second inning when Renfrow doubled leading off, then scored on a looping liner to right by Thorpe, who finished the game 4-for-4 with two runs driven in and two scored.
A pair of Cougar errors led to four Trinity runs in the third inning that made the game close at 6-5.
Cougar coach Eddie Anderson brought Thorpe back to the circle in the fifth inning, but the Raiders quickly broke through with a run to tie the game 6-6. Brittney Booker led off with a single, then scored one out later on a double by Valerie Wilkerson.
Meanwhile, the young right-hander for the Raiders had held the Cougars scoreless after taking their 6-1 lead, but in the bottom of the sixth the Cougar bats came back to life. Emily Akins drew a walk leading off and was sacrificed to second by Jenna Nash.
Renfrow flew out for the second out, but Thorpe looped a ball just inside the line in right. Not running on contact with two outs, Akins was only able to advance to third.
But when Clark ripped the first pitch she saw to center for a single, Akins came in to put the Cougars back on top 7-6.
Bailey Snyder beat out an infield hit to load the bases for Duvall, who laced a ball back over second base for a single. America Jarboe, who had entered as a courtesy runner for Thorpe, scored to make it 8-6, but Clark was nailed at the plate as she tried to score as well, but the damage was done.
Thorpe worked another 1-2-3 seventh inning to put the game into the win column.
Grayson County is now 15-8 on the season having won five in a row and nine of their last 11. They will face Edmonson County at 4 p.m. on Tuesday, May 22 in the first round of the district tournament, which will be held in Brownsville.
By Don Brown, Local Sports
Reach Don at donbrown@k105.com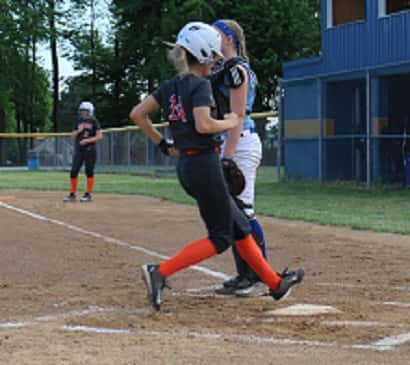 Mikayla Clark scored in the first inning of the first
game following a Bailey Snyder double.