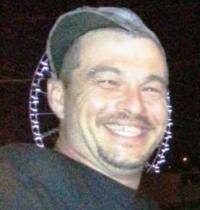 Johnny Ray Whobrey, Sr., age 39 of Clarkson passed away Saturday, May 26th 2018 at his residence. He was born April 23rd 1979 in Bowling Green, KY the son of Ernest & Doris Helen Stinnett Whobrey.
He is survived by his children, Shyanne Brewer (DJ), Destany Whobrey (Seth Frank) both of Leitchfield, Justin Whobrey of Sadler, & Johnny Ray Whobrey, JR. "J.R." of Anneta, his parents, Ernest & Doris Whobrey of Anneta, two brothers, Richard Whobrey (Linda) of Ventura, CA, & Tommie Whobrey of Leitchfield, two sisters, Sandra Hagans of Glasgow & Patricia Shirley of Cave City, one grandson, Ganton Lee Dennison, six nieces, Haily & Rachel Shirley, and eight nephews, Harley Hagans, Luke & Cole Decker, Nathan & Caleb Whobrey, and Jared, Daniel, & Ryan Shirley.

He was preceded in death by his biological mother, Nellie Toms & biological maternal grandmother, Francis Toms, maternal grandparents, Hade & Nellie Carroll Stinnett, paternal grandparents, Presley & Cova Cook Whobrey, one nephew, Alexander Hayden Whobrey, and one niece, Samantha Rena Decker.
Funeral services will be held at 2:00 p.m., Saturday, June 2nd 2018 at the New harmony Church in Sadler. Visitation will be held from 12 noon until 9:00 p.m.,  Friday, June 1st 2018 at the Watson & Hunt Funeral Chapel in Leitchfield, and from 9:00 a.m. until service time on Saturday at the New Harmony Church. Burial will be in New Harmony Church Cemetery.
In Lieu of flowers, expressions of sympathy can be made in the form of donations to help with the funeral expenses.