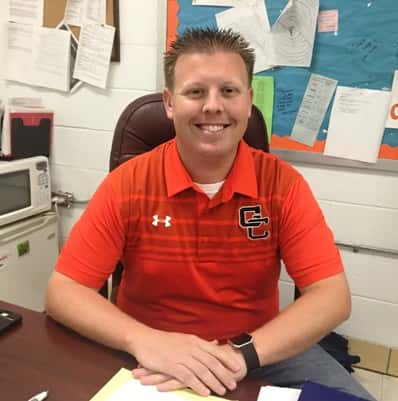 One day after announcing Josh Baldwin as the new principal at Grayson County High School, on Thursday Josh Basham was named principal at the district's Alternative Education Center.
Whether in the classroom or on the basketball court, relationships have always been the name of the game for Josh Basham. The 12-year GCHS social studies teacher was recently named principal of the district's Alternative Education Center.
Basham sees his new role as part administrator, part mentor with some coaching wisdom added to the mix. One of his top priorities will be to provide more opportunities for students to guide their own success, with a focus on graduation rate, vocational and life skills.
With smaller class sizes, he's excited about the opportunity for enhanced one-on-one relationships and impacts to teach, motivate, and guide students. He is eager "to really get involved with them and see what direction they want to go in, motivate them, and help steer them in the right direction."
Also on his agenda is reaching out to both community colleges and local businesses to show students real world applications and how they relate to their education and future. He believes virtual learning can also be a powerful tool, allowing students to guide their progress as they develop life skills such as organization and work ethic.
In addition to teaching, Basham has served as GCHS Athletic Director for the past eight years. He will relinquish that role, but stay on as head girls basketball coach, having just completed his first season with the team.
Basham is a 2002 GCHS graduate. He completed his Bachelor's in Education at Kentucky Wesleyan, Master's and Rank I at WKU. His wife Liz teaches at Wilkey Elementary and they have two sons, Reid, 5 and Luke, 3.
By Grayson County Schools