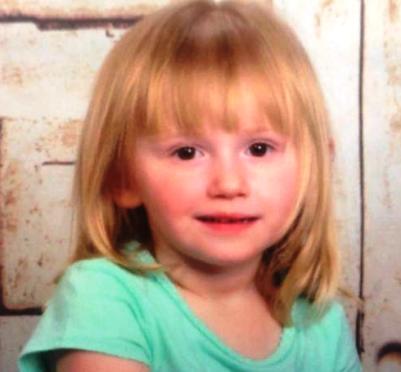 In a 25 minute news conference Monday morning, Bullitt County Sheriff Donnie Tinnell said he does not believe two-year-old Charlee Campbell, who went missing Thursday morning before being found early Friday evening, was lost in the woods the entire time.
Charlee walked into the back yard of a residence at 194 Roy Layne Road, about 500 yards from where she was last seen, at her grandmother's home near Lebanon Junction on Winding Hollow Road. Sheriff Tinnell does not think she could have walked the rough, hilly terrain around the area. In fact, he stated that a 20-year-old fireman had difficulty walking up a hill just behind the home where Charlee arrived Friday night. Additionally, search and rescue personnel, including search dogs, had scoured that area multiple times without finding the child.
Sheriff Tinnell added that he considers it suspicious that Charlee's diaper and pajama bottoms, which she was not wearing when she was found, have yet to be discovered, even after search dogs hunted for the items Sunday morning for three-and-a-half hours.
The sheriff, while allowing that Charlee was clearly dehydrated when found – she threw up bile twice after being given water – does not feel her condition is in line with having been missing for 36 hours, outside and in the woods. Plus, Charlee's pit bull, Penny, appeared to not been outside at all, according to the sheriff, even though the dog disappeared at the same time as Charlee.
"That's really suspicious to me," Sheriff Tinnell said about Penny's condition.
Correcting a mistake made by media outlets on Friday, the sheriff said Penny showed up at the residence where Charlee went missing from on Winding Hollow Road at almost the same time Charlee was found behind a residence on Roy Layne Road — It was previously erroneously reported by news outlets that Charlee and her dog were found together.
Another aspect of the case suspicious to Sheriff Tinnell is the timing of Charlee and her dog's re-appearance. According to the sheriff, it was just after the FBI searched Beth Campbell's residence (it had already been searched by authorities at least once) that Charlee's pit bull, Penny, showed up at that home, and Charlee arrived at the residence on Roy Layne Road.
The family
Sheriff Tinnell said that the custodial grandmother, Beth Campbell, will likely face negligence charges, saying, "We believe it's criminal."
According to the sheriff, Campbell woke up at about 9:30 Thursday morning to find that Charlee was not in the residence. She called her husband, Robert, who was at work in Louisville, but authorities were not notified of Charlee's disappearance until 10:55 Thursday morning, nearly 90 minutes after the child went missing.
The sheriff said when he confronted Campbell about why it took so long to alert police, she told him, "I got busy and distracted," a response that is highly suspicious to Sheriff Tinnell.
Tinnell spoke at length about a possible custody battle over Charlee — who has been diagnosed as being in the autism spectrum, and whose language skills are negligible – between Campbell and her daughter, Natalie Campbell (the child's biological father lives in Bowling Green and has been ruled out as having anything to do with Charlee's disappearance).
Furthermore, Natalie Campbell's husband, Charles Quick, was behaving in a belligerent manner early on in the search for Charlee, resulting in police conducting a warrant search on him, where authorities discovered he was wanted in Florida on unspecified charges, according to Sheriff Tinnell. Quick was arrested early Thursday afternoon and lodged in the Bullitt County Detention Center.
Police are conducting a forensic examination of the cell phones of family members in hopes of ascertaining whether members of the family were involved in Charlee's disappearance. A forensic examination of Charlee was also scheduled for Monday. The results of that examination have yet to be made public.
Once Charlee was released from the hospital over the weekend, she was placed with Child Protective Services as the investigation continues.
By Ken Howlett, News Director
Contact Ken at ken@k105.com or 270-259-6000