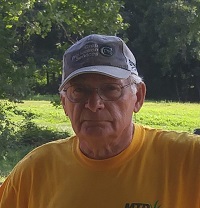 George Roy Skaggs was born on February 14, 1940 in the Oak Grove Community. He was the son of Gifford and Maggie McGrew Skaggs. He was married to Betty Jane Carnes Skaggs. He was a member of Clarkson Church of Christ, and loved his church family. He was very proud of his daughters, son-in-laws, grandchildren, grand son-in-law and great grand child. He loved to drive just exploring news roads, finding antique stores and loved working as a pass time around his home. He retired from Johnson-Controls with 25 years and worked several years as a truck driver in Louisville. After retiring, he still worked at Crop Production, driving a truck, caretaker at Grayson Springs and mowing other properties.
He was preceded in death by his parents, Giffard and Maggie Skaggs, a brother, Ernest Thomas Skaggs and his father and mother in law, Ed and Margaret Carnes. He is survived by his wife, Betty; daughters: Tami Akridge (Bruce), and Tara McDavid (Michael) and his grandchildren: Grasen and Marinah Akridge, Tessa Evans (John) and Micah McDavid and one great-grandchild, Lily Evans. His sisters: Irene Cain and Emily Cannon and a brother, Hillary Skaggs.
Visitation: Friday, June 15. 2018 from 1-8 PM CDT; Saturday, after 10:00 AM CDT at Clarkson Church of Christ. Funeral service: Saturday, June 16, 2018 at 1:00 PM CDT at Clarkson Church of Christ Mark Weaver officiating. Burial to follow in Clarkson Cemetery at Clarkson, KY.