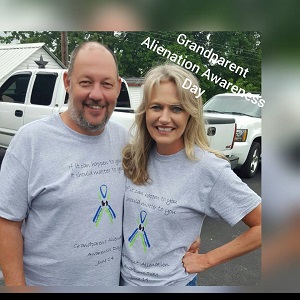 Leitchfield, KY – June 14th has been declared Grandparent Alienation Awareness Day by Grayson County Judge/Executive Kevin Henderson, after a Leitchfield grandparent says her personal experience of alienation from her grandson led her down a 22 month long pursuit of reconnecting with the grandchild.
Deanna Saltsman said the 22 month long court battle finally produced a judge awarding her three hours a month of visitation with her first born grandson, who she says she, "had practically raised for 27 months" before he was taken away from her after family differences.
"I was broken, my family was broken, but the most heartbreaking, my grandson was broken.  I was in disbelief that this happened. I was in disbelief that this could happen.  Overnight, I became an alienated grandparent to my oldest grandson.   My youngest, thankfully, was never withheld from me."
Glenn Ross Caddy Ph.D., A.B.P.P., F.A.P.A. explains, "The children who suffer this alienation have no context of cohesiveness or normalcy of extended family life.  They do not learn or know normalcy and they suffer profound emotional consequences.  I have treated people in their 30's and 40's who came to realize in the context of the therapy that they were the victims of parental (and grandparent) alienation and their suffering has ranged between confusion and unimaginable psychic pain and psychopathology."
The pain caused by grandparent alienation contributes to dysfunctional family dynamics resulting in a form of psychological child abuse, according to Joshua Coleman, Ph.D., a recognized authority on Grandparent Alienation states, "…the decision to end an attachment to an otherwise loving and involved grandparent is something that should be considered in a far broader contest than the rights of the parent. Parental neglect can and should be considered a form of child abuse, certainly a parent's decision to end a loving and attached relationship between a grandchild and grandparent should also be considered a form of abuse."
Saltsman's case took a turn when she was made aware that the grandchild had legally been adopted-out, making "…my fight even harder.  I was told he was no longer my grandson by law."  When she questioned the now relationship with his biological brother she said she was told, "…by law, he no longer  has a brother."  Saltsman declared in that moment that something had to be done to protect the rights of the biological family who still wants to have a relationship with a child.  " I said we have to do something and if that doesn't work we have to do something else. By the grace of God I was still awarded visitation.  Proof again, with God all things are possible," declared Saltsman.
Saltsman hopes to continue to work towards grandparents, and other family members to have healthy, continual relationships with grandchildren.  She says she is now researching and creating a law that would open a case, and notify family members before a child is adopted to the another party.  She hopes to call the law Canaan's Law.
"During those 22 month I researched laws, joined support groups and began being an advocate for grandparents. I had no idea that so many grandparents were battling this same issue, grandparent alienation," stated Saltsman.  She joined GRAND USA, began writing letters to Governor Matt Bevins, and Judge/Executive Kevin Henderson to declare June 14th at Grandparent Alienation Awareness Day.  She says she quickly got a response from Judge Henderson, who signed the proclamation on April 10, 2018.
Saltsman says her hope is to continue to be a grandparent advocate, a voice for children, raise awareness of this epidemic that is destroying children and families.  She says the community support has surprised her, and she's even received supportive messages from strangers offering support.
The proclamation, requested by the Kentucky Delegation of GRAND USA, is intended to raise awareness and increase the knowledge and understanding of this problem to help families, institutions, and the legal and mental health community better identify and combat such abusive behavior toward children.
States that have also recognized June 14th in this way include Idaho, Kansas, Louisiana, Indiana, Illinois, and Massachusetts.
"…when I first saw him in that second my heart began to be pieced back together, for 22 months it was shattered. I will never forget the look in his eyes. He smiled all over himself, put each hand on his car seat straps gave it a tug from one side to the other and said, 'get me out of here,'  when he got out he jumped in my arms and gave me a hug and put his head on my shoulder."
Misty Thomas, Staff Writer