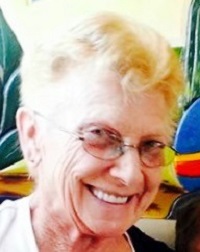 Regenia Faye Hayes, age 69, of Caneyville, KY, passed away Wednesday, (June 13, 2018) at her home.
She was born on March 1, 1949, in Grayson Co., KY, the daughter of the late Elza and Mary Magdalene Decker Mudd.
She was a retired school bus driver for the Grayson County School System; who enjoyed fishing, gardening, camping and being a grandmother, and was a member of the Pleasant Union (Wilson) United Baptist Church.
She is survived by four children, Ronnie Hayes (Pam), Lauretta Hayes (Luke Dennison) and Anthony Hayes all of Caneyville and Johnnie Hayes of Morgantown KY, 9 grandchildren, Chad Mudd, McKenzie, Addison and Memory Hayes, Logan, Breana, Lee, Lucas and Elizabeth Dennison, three great-grandchildren, Isaac Hayes, and Trenton and Christan Mudd, her brother, Clarence Mudd (Brenda) of Louisville and her sister, Clara Croghan (Richard) of Caneyville.
Other than her parents, she was preceded in death by her husband, James Hayes and a son, Donnie Hayes.
Funeral services will be at 12:00 noon Saturday, (June 16, 2018) at the Dermitt Funeral Home in Leitchfield. Burial will be in the Wilson Cemetery.
Visitation will be at the Dermitt Funeral Home from 5:00 p.m. to 8:00 p.m. on Friday and from 9:00 a.m. Saturday until time of services.
Expressions of sympathy may take the form of donations to the funeral home to help with final expenses.
Online condolences can be made in the guestbook on our website at www.dermittfuneralhome.com.