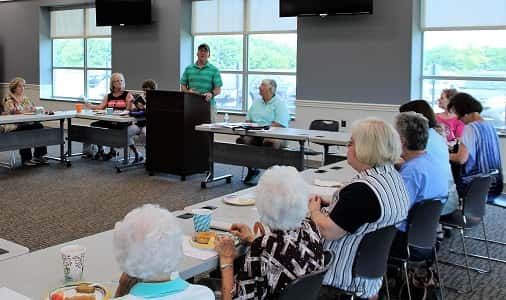 Leitchfield, KY – The Grayson County Retired Teachers' Association met at the Board of Education on Friday, June 8th.  GCRTA President Glenda Goff was proud to introduce Grayson County Sheriff Norman Chaffins as guest speaker.
Many, if not most, of the retired teachers present recalled having Norman in their classroom. Laughter and tears filled the room as he reminisced about the challenges with which he provided his teachers and the respect and appreciation in which he regards them. His reflections were first-hand evidence that teachers have a huge impact on the lives of their students in academics and beyond.
Pat Hackley provided a wonderful devotional which included goody bags.  A brief discussion about the State Convention was provided.
A slate of officers for the upcoming year were voted on and will be announced at the installation during the August 10th meeting.
The next meeting of the GCRTA will be Friday, August 10, 2018 at 10 a.m. at the GC BOE office on Shaw Station Rd.  All retired teachers are invited and encouraged to attend.
Submitted