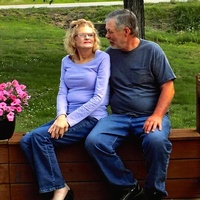 Valerie Gail Tarrence, age 59, of Caneyville, KY, passed away Friday, (June 13, 2018) at Twin Lakes Regional Medical Center surrounded by her family.
She was born on March 07 1959 in, Leitchfield, KY the daughter of the late Charles and Edna Kerr Tarrence.
She was a secretary for Heartland Electric and a member of the Bloomington General Baptist Church who enjoyed gardening, scrapbooking, and shopping.
She is survived by her husband of more than 30 years, Michael Tarrence, of Caneyville; a daughter, Jayme Tarrence Smith (Nicki) of Beaver Dam, KY;  three sons, Michael Keith Tarrence (Danielle), Kyle Tarrence (Casey) and Jordon Tarrence (Ashley) all of Caneyville, KY; seven grandchildren, Christian, Faith, Hunter, Alexis, Braxton, Gavon and Avery; a brother, Neal Saltsman (Debbie) of Leitchfield; a sister, Marilyn Mattingly (Timmy) of Leitchfield. Several nieces and nephews also survive.
Other than her parents, she was preceded in death by a brother, Kevin Tarrence and a great niece, Keely Mattingly.
A graveside service will be held at 2:00 p.m. Friday, (June 15, 2018) at the Lower Bates Cemetery in Caneyville. Bro. Darrell Snyder and Bro. Stevie Embry will be officiating.