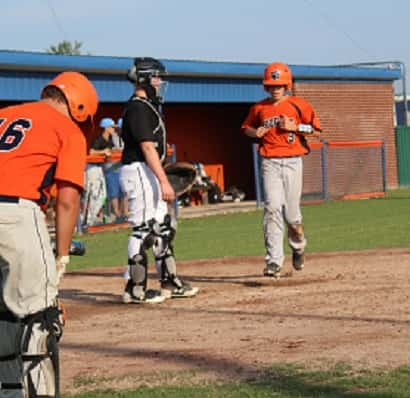 Summer baseball action continued Thursday with a pair of five-inning games at Don Lee Field against Muhlenberg County and Apollo.
In the opener, Cain Smith hit and pitched the Cougars to a 7-1 win over Muhlenberg County's Mustangs, but the Cougars were shelled 20-2 in a loss to Apollo.
Muhlenberg County
Smith was strong on the bump for the Cougars, going all five innings, scattering six hits and allowing just the single run. He walked one batter, that coming with two outs in the Mustang's last at bat in the fifth inning.
Smith also had the big blow in the game. With two outs in the third inning, the Cougars loaded the bases on a pair of hits and a walk, bringing up Smith, who connected on the first pitch he saw and drove it over the 350-foot sign in left-center for a grand slam and a 4-0 lead.
The Cougars added two more two-out runs in the fourth inning on RBI singles by Caden Woodcock and Andrew Haycraft, making it 6-0.
Grayson County scored its final run in the fifth inning without the benefit of a hit. Smith walked leading off and was replaced by a courtesy runner, who reached second on a passed ball.
Ryan Johnson reached on an error, putting runners at first and third, and the runner at third scored on a second passed ball to make it 7-1.
Apollo
Apollo led 7-2 heading into the fourth inning, when the Eagles sent 19 men to the plate and scored 13 runs. They picked up seven hits in the inning and were helped immensely when Cougar pitchers gave up seven walks, including three with the bases loaded, and hit another batter.
Sophomore Mason Miller started for the Cougars and was pitching well until the third inning, when he was shelled for five runs to make it 7-0.
The Cougars rallied in their half of the third, scoring twice after two were out on a single up the middle by first-baseman Kyle Davis.
But then came the fourth inning. Gavin Childress struck out the first batter of the inning, but then a steady stream of Eagles came to the plate. Nine straight batters came to the plate and seven runs scored before the second out was recorded. Apollo added six more runs against two more Cougar hurlers before the carnage ended.
The Cougars then went-1-2-3 in their half of the fourth and the game was mercifully called.
By Don Brown, Local Sports
Reach Don at donbrown@k105.com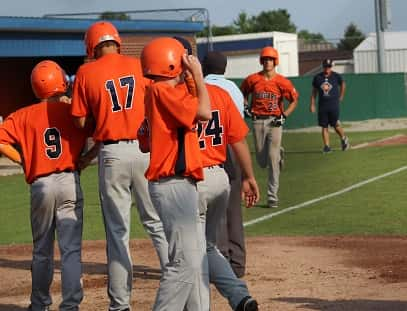 Cain Smith is greeted at the plate by his teammates after
hitting a grand slam in the third inning against Muhlenberg County.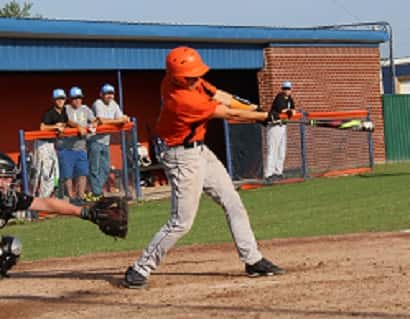 Andrew Haycraft drove in a pair of runs against
Muhlenberg County with a fourth-inning single.