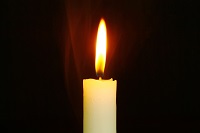 Funeral services for 71 year old John Robert Thomas, Sr.  will be held at 10:00 a.m. on Wednesday at the Watson & Hunt Funeral Chapel in Leitchfield. Bro. Rick Holloday officiating with burial in the Kentucky Veterans Cemetery Central in Radcliff, Kentucky on Friday at 10:00 a.m. EST.
Visitation will be held on Tuesday 12:00 p.m. to 8:00 p.m. and from 9:00 a.m. until time of service on Wednesday at the funeral home. Survivors Include: One daughter: Juanita Mullarkey (Artie), One son: John Robert Thomas, Jr. (Patricia), and One brother: William Thomas.
Four grandchildren and two great grandchildren also survive.