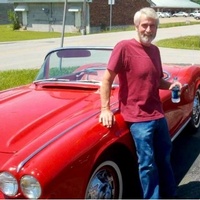 Robert D. Donald, age 67, of Leitchfield, KY, passed away at his home Friday, (June 15, 2018) surrounded by his family.
He was born on August 20, 1950 in Louisville, Kentucky, the son of the late Dr. John Henry Donald and Eva Irene Richey Donald.
He was the owner and operator of Rob's Body Shop for 45 years. He was an avid hunter, collector, and gardener who loved restoring classic cars, but his favorite thing to do was spending time with his friends.
He is survived by a daughter, Casse Renice Donald Haycraft (Keith Carter) of Leitchfield; a son, Evand Tyler Donald of Lexington, Kentucky; two grandchildren, Kenna Renice Lacy (Jay) of Alabama and Cody Brooks Haycraft of Alabama; one great-grandchild Holden Brooks Lacy of Alabama; two brothers, Tom Donald and Rick Donald (Michael) both of Louisville, KY; and two sisters Evann (Bob) and Ferrirll Deanna Donald also of Louisville.
Other than his parents, he was preceded in death by a brother, John Henry Donald and William A. Donald.
In keeping with his wishes, cremation was chosen.
Expressions of sympathy may take the form of donations to the Backpack Buddies program c/o Grayson County Alliance, PO Box 57, Leitchfield, KY 42755.