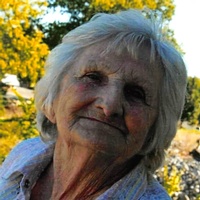 Jeanette Stone, age 85, of Leitchfield, KY, passed away Tuesday, (June 19, 2018) at Brandenburg Nursing and Rehab.
She was born on November 8, 1932 in Indianapolis, IN, the daughter of the late Virgil and Gladys Hobson Hornaday.
She was a homemaker who enjoyed yard sales, woodcrafts, and watching soap operas. She was a member of the Pleasant Union United Baptist Church.
She is survived by her children: Larry Pridemore (Sandy) of Indianapolis, IN, Connie Hardesty (Wilbur) of Union Star, KY, Gary Pridemore (Rose) of Mishawaka, IN, Debbie Sue Denham (Wade) of Pig, KY, Debbie Ann Stone Butts of Illinois, and La Donna McCrady (Ricky) of Leitchfield, KY; 15 grandchildren; several greatgrandchildren and great-greatgrandchildren; and a sister, Peggy (Steve) of Indiana. Several nieces and nephews also survive.
Other than her parents, she was preceded in death by her husband, Franklin Eugene Stone; two sons, an infant, and David Stone; a grandson, Fielden Webb; three brothers, Chester Hornaday and two infants, Lawrence Edward & Douglas; and a sister, Carolyn Bryson.
Funeral services will be at 11:00 a.m. Friday, (June 22, 2018) at the Dermitt Funeral Home in Leitchfield. Bro. Jeff Howard will be officiating. Burial will be in the Sanders Cemetery.
Visitation will be at the Dermitt Funeral Home from 4:00 p.m. to 8:00 p.m. on Thursday and from 9:00 a.m. Friday until time of services.