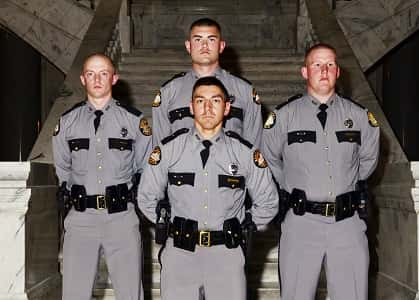 (Elizabethtown, KY.) – Kentucky State Police (KSP) Post 4 welcomes four new troopers. Trooper Thomas Czartorski  and Trooper Kevin Dreisbach, both of Louisville, KY., Trooper James Ford, of Magnolia, KY., and Trooper Elliott Young, of Mt. Washington, KY were among the 42 troopers who graduated June 23rd from the KSP Academy in Frankfort.
The new troopers will be supervised for eight weeks by a field training officer before working their assigned area. Upon the completion of their field training, all four troopers will be assigned to the Hardin County squad.
KSP is now accepting applications for a cadet class tentatively scheduled to begin in April of 2019. For more information, visit the Kentucky State Police Recruitment website at http://kentuckystatepolice.org/recruitment/ . Applicants may also call the Recruitment office toll-free at 1-866-360-3165 during office hours from 8 a.m. to 4:30 p.m. (ET) Monday through Friday or leave a message any other time.
All application materials must be completed and returned to the Kentucky State Police Recruitment Branch by Thursday, August 23, 2018.