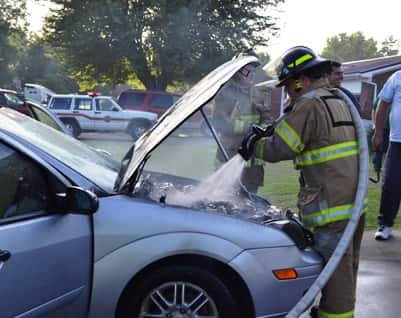 Friday night at approximately 7:15, the Leitchfield Fire Department responded to a car fire in the 100 block of Wallace Avenue.
Upon arriving at the scene, firefighters found neighbors of the victim, including an off-duty Kentucky State Police Detective, attempting to put an engine fire out after a parked Ford Focus caught fire.
Firefighters were able to extinguish blaze quickly, containing the fire to the engine compartment. The heat inside the passenger compartment, though, partially melted a floor mat.
LFD Chief Tim Duvall said the fire was likely electrical in origin.
There were no injuries reported, and the car was parked about 40 feet away from the residence and did not damage the home.
(Headline photo: LFD fireman Joshua Holderman)
By Ken Howlett, News Director
Contact Ken at ken@k105.com or 270-259-6000