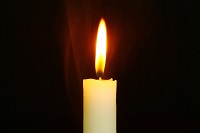 Odell Embry, age 93, of Clarkson, KY passed away Friday, June 29, 2018 at his residence. He was born in Butler County, KY on March 29, 1925, son of Lonnie and Lelie (Bryant) Embry and was married to Gwendolyn (Lee) Embry. He was a retired Church of Christ Minister.
Visitation: Tuesday, July 3 from 3-8 PM CDT at Rogers-Oller Funeral Home and after 9 AM on Wednesday. Funeral: Wednesday, July 4, 2018 at 2:00 PM CDT at Rogers-Oller Funeral Home with Bro. Mike Hardin officiating. Burial to follow in Flatwoods Cemetery in Butler Cunty, KY
He was preceded in death by his Parents and nine Brothers and Sisters.
Mr. Embry is survived by his loving wife of 68 years, Gwendolyn (Lee) Embry, one son; Douglas Embry and two daughters; Hilda Vertrees (Johnnie) and Kathy Lyall. Other survivors include six Grandchildren, five Great-grandchildren and two Great-great grandchildren.