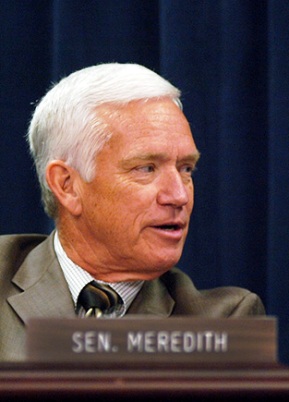 State Senator Steve Meredith joined other state policymakers from across the south to chart strategies to improve education at Southern Regional Education Board (SREB) meetings from June 21-25 in Boca Raton, Florida.
At the SREB Annual Meeting and Legislative Work Conference, Sen. Meredith came together with state legislators, education agency officials and other policy leaders in work sessions to examine issues ranging from teacher preparation to college completion. Attendees weighed recommendations from the SREB Teacher Preparation Commission, addressed topics in educational technology, and discussed how to prepare the workforce of 2030.
"At SREB meetings, the Kentucky delegation learns what works and what doesn't to improve education for our students," Sen. Meredith said. "I look forward to implementing some of these essential policies and best practices here at home."
SREB works with states to improve public education at every level, from Pre-K through PhD levels. Sen. Meredith serves as a member of SREB's Legislative Advisory Council and was appointed to this year's Legislative Work Conference.
"Senator Meredith's commitment to education is vital to the Commonwealth of Kentucky and the region, and we appreciate his leadership and service," SREB President Dave Spence said.
The Southern Regional Education Board works with states to improve public education at all levels, from early childhood through doctoral education. Member states are Alabama, Arkansas, Delaware, Florida, Georgia, Kentucky, Louisiana, Maryland, Mississippi, North Carolina, Oklahoma, South Carolina, Tennessee, Texas, Virginia, and West Virginia.
A nonprofit, nonpartisan organization based in Atlanta, Georgia, SREB was created in 1948 by southern governors and legislatures to help leaders in education and government advance education and improve the social and economic life of the region.
By the Legislative Research Committee