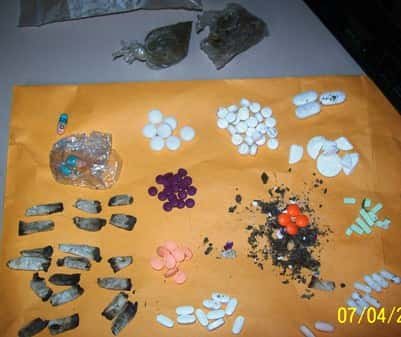 Last week, Grayson County Deputy Sheriff DJ Newton arrived at Day's Pro Bass, in Wax, to investigate a complaint that two individuals were "passed out" at the gas pumps in a black Toyota Camry.
The initial contact between Dep. Newton and the driver, 48-year-old Timothy A. Murray, of Gary, Indiana, revealed that Murray did not know why he was at the gas pump, and actually thought he was still in Indiana, according to Chaffins. Murray also had a purple container attached to a lanyard around his neck which he admitted to Dep. Newton contained cocaine.
There was also a large baggie containing several different types of prescription pills, including hydrocodone, along with a small amount of marijuana and marijuana "roaches" in Murray's front pocket. Also seized was nearly $700 in cash, scales and other drug paraphernalia.
Murray was arrested and charged with trafficking in a controlled substance (drug unspecified), and two counts of possession of a controlled substance (cocaine, drug unspecified), possession of marijuana, and possession of drug paraphernalia.
"Additionally, Murray was charged with shoplifting after he bought rolling papers and chocolate covered peanuts, and moments later returned to the store to purchase additional rolling papers (evidently, he forgot he had already bought them) and attempted to buy the second set of rolling papers with the chocolate covered peanuts he had already purchased," Chaffins said.
Murray's companion, 45-year-old Trudi K. Murray, also of Gary, Indiana, was arrested for public intoxication, possession of marijuana and possession of drug paraphernalia.
Both suspects were lodged in the Grayson County Detention Center, but have since bonded out of custody.
(Headline photo: Drugs seized by the sheriff's office in Wax bust)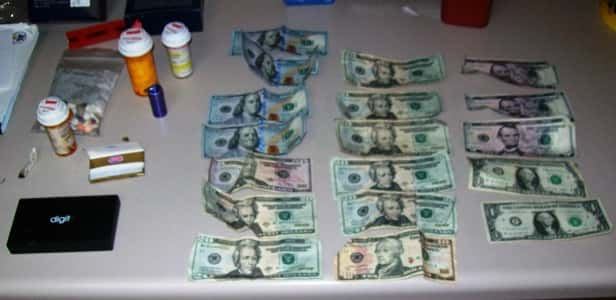 By Ken Howlett, News Director
Contact Ken at ken@k105.com or 270-259-6000