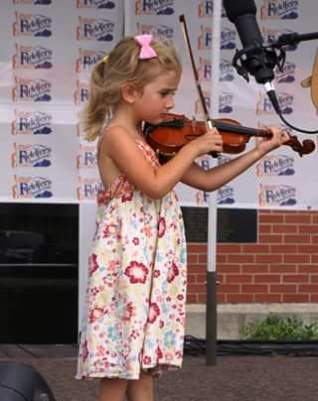 Any competition relies heavily on good organization and a reputation for fun and fairness. This was very important when the Twin Lakes National Fiddler Championship was developed. With this in mind, getting experienced, skilled and respected judges is critical, and the contest has developed a reputation as a competition that emphasizes capable and fair judges.
Contest Director Ed Carnes grew up in Leitchfield, and has been involved in contests for many years as a fiddler and is a Nationally Qualified Fiddle judge.
"If you get fair, respected, and qualified judges, fiddlers will come," Carnes said. "We had 71 fiddlers last year and that tells me that we did a great job in selecting judges. I know each of the judges personally, I know they are competent and fair, and have judged several state championships, the Grand Master Fiddler Championship in Nashville and the U.S. National Championship in Idaho. We are very lucky to get judges of this caliber and we expect even more fiddlers this year."
An innovation used by the contest to aid in the fairness of the results is a scoring system developed by Carnes which he calls "Normalized Scoring System," or NSS. Its objective is to maintain scoring consistency and eliminate the potential differences in the way each judge develops scores so that all judges' scores have equal weight in determining the contest results.
"This means that each judge scores the contestants as they see them and the system determines the order that each judge ranked the contestants in their category," Carnes explained. "The system assigns a score based on the ranking and so each judge has exactly that same influence on the contestant placement. It truly reflects the way the judges see the contest finishing as opposed to just adding points."
Let's meet the judges for 2018 Twin Lakes National Fiddler Championship:
Maddie Denton
Maddie Denton, a two-time winner of the Twin Lakes National Fiddler Championship, is a third-generation fiddle player from Murfreesboro, Tennessee, who began playing at the age of five. She is the current Grand Master Fiddle Champion, the first Tennessee-born contestant to ever win, plus the 2009 National Oldtime Junior Fiddle Champion.
Since 2008, Denton has won 14 state championship titles in Alabama, Kentucky, Indiana, Georgia, and Tennessee, where she is a three-time winner and current state champion. She is an accomplished tenor guitar player and frequently backs up her fellow competitors. Denton also plays mandolin, banjo, and standard guitar.
In addition to her love for contest fiddling, Denton also enjoys playing bluegrass and is the fiddle player for the 2017 SPBGMA International Bluegrass Band Champion, Modern Tradition.
Aside from music, Denton is a recent graduate of Middle Tennessee State University where she earned a degree in Organismal Biology and Ecology and a minor in music.  While at MTSU, she played NCAA Division I golf for four years and helped the Lady Raiders win back-to-back Conference USA Championships. She now teaches biology at Siegel High School where she is also the assistant girls basketball coach.
Denton is a nationally certified judge with experience judging the National Oldtime Fiddle Championship as well as multiple state championships. As a judge, she listens for intonation and groove in up-tempo tunes as well as emotion and execution in waltzes.
Megan Lynch-Chowning
Megan Lynch-Chowning, a past winner of the Twin Lakes National Fiddler Championship, is originally from Redding, California and is a seven-time national fiddle champion, touring musician, recording artist, teacher, singer, and flat-footer.
She recently finished a four-year touring stint with legendary country music artists Pam Tillis and Lorrie Morgan, and has played with bluegrass stars Dale Ann Bradley, Roland White, Larry Cordle, Jim Hurst, Chris Jones, 3 Fox Drive, Due West, Chris Stuart, and BEML (the duo of Bill Evans and Megan).
Lynch-Chowning has fiddled and sung on more than two dozen projects, and has two new albums out, "The Comprehensive Fiddler" and "Something Old, New Borrowed, Blue."
She has taught fiddle at prestigious camps such as Augusta Heritage Week, the British Columbia Bluegrass Workshop, Sore Fingers Bluegrass Week in the UK, and the California Bluegrass Association Camp among many others.
She has also judged the National Fiddle Championships three times, as well as many state championships throughout the country. She's the co-director (with her husband Adam) of the esteemed and IBMA award-nominated Nashville Acoustic Camps. They host a dozen of these bluegrass and old-time music camps every year at their home just north of Nashville, Tennessee.

Kerry Varble
Kerry Varble has been playing fiddle for more than 25 years and was the Ohio State fiddle champion in 2008 and 2016.  In addition to top finishes in contests from Ohio to Texas, she is a three-time Indiana State Gambler's Draw champion and two-time Grand Master Fiddler finalist.
Varble holds a Bachelor of Arts degree in Violin and a Master of Arts degree in Education. She currently teaches English and creative writing at West Branch High School in Beloit, Ohio. Her innovative approach to integrating music and language arts has been reported in local newspapers, as well as featured on the Youngstown NBC television affiliate, WFMJ.
In addition to playing the fiddle, Varble is an avid equestrian specializing in retraining former thoroughbred racehorses for the sport of eventing. She has competed with her young horses at the Retired Racehorse Project Thoroughbred Makeover at the Kentucky Horse Park in Lexington, and many others events.

The Fiddle contest will be held Saturday, July 21, 2018 on the Courthouse Square in Leitchfield, beginning at 9 a.m.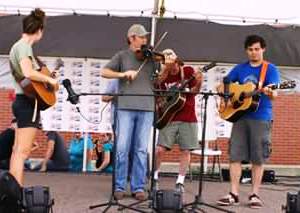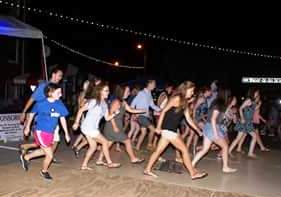 By Twin Lakes National Fiddler Championship