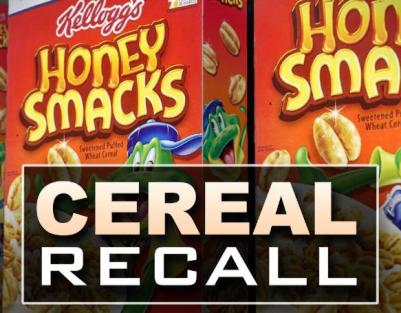 The U.S. Centers for Disease Control (CDC) says that 27 more people have gotten sick in a multi-state outbreak of salmonella illness linked to recalled Kellogg's Honey Smacks cereal.
This brings the total number of illnesses to 100 people since March. The outbreak was not announced until June.
Florida and Colorado are the latest states to report illnesses as part of the outbreak, bringing the total number of states affected to 33, including Kentucky.
Again on Thursday, officials urged people not to eat the cereal and retailers to not sell Kellogg's Honey Smacks because of the risk of salmonella contamination.
"The FDA has become aware that recalled Kellogg's Honey Smacks cereal are still being offered for sale," the FDA said in a statement. "All Honey Smacks cereal was recalled in June. Retailers cannot legally offer the cereal for sale and consumers should not purchase Kellogg's Honey Smacks cereal."
The CDC and the FDA are working with state and local health officials across the country to investigate the source of the contamination.
Symptoms of salmonella infection include fever, abdominal cramps and diarrhea. Typically, symptoms take 12 to 72 hours after exposure to present. The first cases of illness in this outbreak began with symptoms on March 3, and the most recent individuals began feeling ill on July 2, according to media reports.
By Ken Howlett, News Director
Contact Ken at ken@k105.com or 270-259-6000