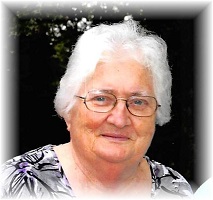 Evelyn Crawford, age 87, of Caneyville, KY, passed away Thursday, (July 19, 2018) at her home.
She was born on December 4, 1930 in Grayson County, KY, the daughter of the late Shelby and Valor Payton.
She was a housewife who enjoyed gardening and reading. She was a member of the Richland Baptist Church.
She is survived by her husband, Raymon Crawford, of Caneyville; sons, Mike (Brenda) and Morris Crawford of Caneyville; daughter, Marilyn (Gary) Wilson of Caneyville; grandson, Aaron Crawford; great-grandchildren, Elizabeth, Brenis and Christopher Crawford; great-great grandchildren, Lilly Jo, Evelynn Pearl and Brenda Ann Crawford; brother, Richard Payton of Caneyville and sister, Hazel Geary of Yeaman.
Other than her parents, she was preceded in death by her siblings, Jean Lovely, Leland and Joe Payton.
Funeral services will be at 1:00 p.m. Tuesday, (July 24, 2018) at the Dermitt Funeral Home in Leitchfield. Bro. Randall Deweese will be officiating. Burial will be in the Layman Memorial Cemetery.
Visitation will be at the Dermitt Funeral Home from 3:30 p.m. to 9:00 p.m. on Monday and from 9:00 a.m. Tuesday until time of services.
Online condolences can be made in the guestbook on our website at www.dermittfuneralhome.com.