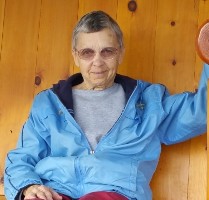 Beverly June (Decker) Willis, 77, of Millwood, KY passed away peacefully at her home on July 21, 2018.
Mrs. Willis was born June 21, 1941 in Louisville to William W. and Myrtle Swift Decker. She was proceeded in death by her husband, Joe Willis, in 2011.
In their many years together, Mr. and Mrs. Willis enjoyed riding motorcycles and loved the Great Smoky Mountains. They traveled each year to the Smokies from the early 60s until his passing. Mrs. Willis also loved working outside in her yard. Prior to moving to Millwood from Bardstown, Mr. and Mrs. Willis were members of the Bardstown Baptist Church.
She is survived by her sisters, Yvonne Pharris, of Morgantown, Faye (Tommy) Crowe and Glenda (Delbert) Dockery, all of Horse Branch; and cousins Magaline Cummings of Caneyville and Ester Decker of Indiana. Also surviving are her adopted family, "her girl" Sherri and Marion Mudd, and "her boy" Patrick Mudd.
Funeral services will be held Tuesday, July 24 at 11 AM at the Dermitt-Joyce Funeral Home in Caneyville. Visitation will be Monday from 4 PM to 7 PM, and again on Tuesday from 9 AM until the time of service. Burial will be in the Antioch (Dogwalk) Cemetery.
Dermitt-Joyce is both honored and privileged to be entrusted with the care of Mrs. Willis. Share your messages of condolence with the family at www.dermittjoyce.com.