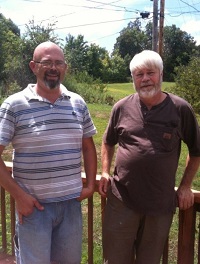 Phillip Edward Probus, age 66, of Clarkson, KY passed away at his residence on Monday, July 23, 2018. He was born in Grayson County KY on February 23, 1952, son of Julian and Donna (Bush) Probus ad was married to Carolyn (Mercer) Probus. He was a Fabricator for Sight Safe and member of St. Elizabeth Catholic Church.
He is survived by one son; Chris Probus, two step-daughters; Julia Rager (Bobby) and Leslie Shartzer (Tony), his mother; Donna (Bush) Probus and three brothers; Dennis Probus (Desi), Fred Probus and Jeff Probus (Susie). Also surviving is one grand-daughter; Savannah and six step-grandchildren.
Mr. Probus was preceded in death by his wife; Carolyn (Mercer) Probus and his father, Julian Probus.
VISITATION
Thursday
July 26, 2018
4:00 PM to 7:00 PM
Rogers-Oller Funeral Home
115 West Main Street P. O. Box 68
Clarkson, KY 42726
---
PRAYER SERVICE
Thursday
July 26, 2018
6:00 PM
Rogers-Oller Funeral Home
115 West Main Street P. O. Box 68
Clarkson, KY 42726
---
VISITATION
Friday
July 27, 2018
9:00 AM to 10:30 AM
Rogers-Oller Funeral Home
115 West Main Street P. O. Box 68
Clarkson, KY 42726
---
FUNERAL MASS
Friday
July 27, 2018
11:00 AM
St. Elizabeth Catholic Church
306 Clifty Avenue
Clarkson, KY 42726
---
BURIAL
Friday
July 27, 2018
12:00 PM
Holly Cemetery
Hwy 259 North
Leitchfield, KY 42754