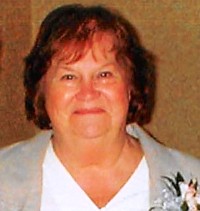 Jeanette Decker, age 85, of Leitchfield, KY, passed away Tuesday, (July 24, 2018) at Norton Hosparus Inpatient Care Unit in Louisville, KY. She was born on July 14, 1933 in Jefferson County, Kentucky, the daughter of
the late William H. and Gladys Wells Mattingly.
She was a homemaker, a seamstress for Phar-Shar, a former Eastern Star member, a faithful church goer and a member of the Antioch General Baptist Church.
She is survived by her children, Joanne Frank (Tom) of Caneyville, KY, Karen Mattingly of Leitchfield, Neal Decker (Donna) of Clarkson, KY, Ricky Decker of Leitchfield; eight grandchildren; 14 great-grandchildren; two sisters,
Marcella Williams and Delma Dickson, both of Louisville; two brothers, Bill Mattingly of Louisville and Teamon Mattingly of Clarkson. Several nieces and nephews also survive.
Other than her parents, she was preceded in death by her husband, Woodford Decker, her son, Darrell Decker; her daughter, Deborah Smith; three sisters, Ella Kraatz, Norene Elmore, and Willadean Mattingly; and one brother, Roger Mattingly.
Funeral services will be at 1:00 p.m. Friday, (July 27, 2018) at the Dermitt Funeral Home in Leitchfield. Bro. Damon Lasley Jr. and Bro. Wilford Logsdon will be officiating. Burial will be in the Antioch General Baptist
Church Cemetery.
Visitation will be at the Dermitt Funeral Home from 12:00 p.m. (Noon) to 8:00 p.m. on Thursday and from 9:00 a.m. Friday until time of services.
Online condolences can be made in the guestbook on our website at www.dermittfuneralhome.com .