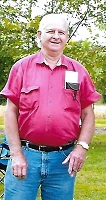 Carlos Lee Carby, age 79, of Hudson, KY passed away on Wednesday, July 25, 2018 at Kensington Manor in Elizabethtown, KY. He was born in Hart County, KY on November 8, 1938, son of the late Robert and Mary (Manion) Carby.
He was a OFS Factory Worker  and Member of Lone Oak Baptist Church.
Mr. Carby is survived by one son; David Carby (Tina), two daughters; Carla Carby, Angela Carby and one step-grand-daughter; Kendra Young.
Also surviving are two sisters; Jeanetta Clemons (Roger) and Debra Carby.
Mr. Carby was preceded in death by his Parents and one brother; James Carby and his first wife; Alma Jane (Vincent) Carby.
Visitation will be Friday July 27th from 4 until 8pm and Saturday beginning at 9am at Rogers-Oller Funeral Home. The funeral service will be Saturday at 11am at the funeral home.