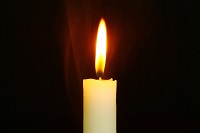 Carolyn Sue Fisher, age 71, of Leitchfield, KY, passed away Saturday, (July 28, 2018) at Twin Lakes Regional Medical Center in Leitchfield.
She was born on April 01, 1947 in Bowling Green, KY, the daughter of the late Rex Sanders and Mary Kirkland Warren.
She was a line worker at Trim Masters who enjoyed reading and spending time with her cats.
She is survived by her sons, John Fisher and Brian Fisher (Dorothy) both of Leitchfield; her daughter, Sarah Fisher of Falls of Rough, KY; eight grandchildren, three step-grandchildren; one great-grandchild; and three step-greatgrandchildren.
She was preceded in death by her parents and her step-father, James "Jim" Warren.
Funeral services will be at 1:00 p.m. Tuesday, (July 31, 2018) at the Dermitt Funeral Home in Leitchfield with cremation to follow.
Visitation will be at the Dermitt Funeral Home from 3:00 p.m. to 8:00 p.m. on Monday and from 9:00 a.m. Tuesday until time of services.