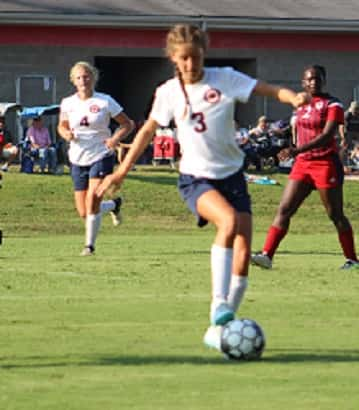 The Lady Cougar soccer team kicked off its 2018 season on Thursday with a scrimmage game at Hopkins County Central. The Central Storm scored twice in the game's first 13 minutes and made those goals stand up for a 2-1 victory over Grayson County.
Former Lady Cougar Elizabeth Priddy takes over the reins as the head coach, replacing long-time coach Rusty Ray, who has moved to the golf team. Priddy finds herself with a very young squad with just one senior, Temple Strader, and four juniors, Grace Bernard, Kandler Lindsey, Matte Milam and goalkeeper Laura Vincent. The rest are freshmen and sophomores who will be counted upon for significant minutes this year.
The Storm are led by sophomore Katelyn Cavanaugh, who as a freshman last season led her team with 45 goals. So it seemed only fitting that she should have scored the first Central goal of the game. In the eighth minute she got behind the Lady Cougar defense and beat Vincent on her left side to make it 1-0.
A short time later, the Lady Cougars missed a golden opportunity to get on the board themselves when freshman Ellie Evans crossed a ball in front of the Central net. When the Storm keeper left her net to try, unsuccessfully, to intercept the pass, that left freshman Mallorie Zurmehly with an empty net to shoot at. Unfortunately, her shot tailed off to the left and missed the net. That turned out to be important later in a one-goal game.
In the 13th minute, a defensive lapse by the Lady Cougars allowed Caroline Rogers to possess the ball and she brought it in all alone on Vincent, who stood no chance in the one-on-one confrontation that made it 2-0.
The Lady Cougars got on the board with their first goal of the season in the 19th minute. Evans and sophomore Gillian Johnston battled a pair of Central defenders about 15 yards out from the Storm goal. Johnston won control of the ball and passed to Evans, who was streaking to the goal. Just as one of the defenders caught up to Evans, the freshman forward was able to left-foot the ball past the keeper for the goal.
The first half ended with that 2-1 score and it went final as neither team could score in the second half.
The Lady Cougars will play one more scrimmage game, next week at Marion County, before beginning their regular season with a home game on Monday, August 13 against Warren East.
By Don Brown, Local Sports
Reach Don at donbrown@k105.com