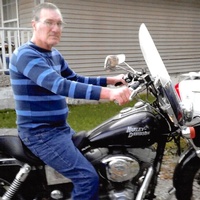 Frank Edward Hack, age 62, of Floyd Knobs, Indiana, formerly from Leitchfield, KY, passed away Sunday, (August 2, 2018) at his home. He was born on July 10, 1956 in Clarkson, KY, the son of his late father, Frank Hack and his mother, Nora (Nash) Hack Smiddy.
He was a construction worker, remodeling and building residential homes. He was an avid motorcycle rider, who rode in a lot of charity rides, especially Toys for Tots. He enjoyed yard sales, fixing junk cars, antiques and all animals. He had been attending Floyd Knobs Baptist Church.
He is survived by his children, Scotty Hack (Tobie), Kassie Decker (Jonathan), all of Leitchfield, and Johnathan Hack (Leah) of New Albany, IN; his mother, Nora Hack Smiddy of Leitchfield; nine grandchildren; his step-dad, Calvin Scott of Leitchfield; brothers, Jerry Lee Hack (Betty) of Spurrier, Ronnie Lee Hack (Melissa) of Kingswood, and Glendal Earl Hack (Karen) of Corydon, IN; sister, Loretta Murray (Mike) of Upton; his companion and caregiver, Patty Rodewig of Floyd Knobs, IN.
Other than his father, Frank Hack, he was preceded in death by his step-father, Larry Smiddy, grandparents, Bill and Ciller Nash, and Mary and Lewis Frank Hack.
Funeral services will be at 2:00 p.m. Wednesday, (August 8, 2018) at the Dermitt Funeral Home in Leitchfield. Bro. Chester Shartzer will be officiating. Burial will be in the Fairview Cemetery.
Visitation will be at the Dermitt Funeral Home from 12:00 p.m. (noon) to 8:00 p.m. on Tuesday and from 9:00 a.m. Wednesday until time of service.
Online condolences can be made in the guestbook on our website at www.dermittfuneralhome.com .