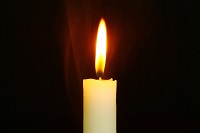 Charles Kenneth Waterbury, age 84 of Clarkson passed away on Tuesday, August 7, 2018 at Norton's Hospital in Louisville, KY.
He was born in Louisville, KY. He was married to Shirley Lajaun Mollyhorn Waterbury. Charlie was a retired laborer for Jaggers Equipment company; a member of Clarkson Baptist Church, member of Antique Automobile Club, Model "A" Club, a Shriner and enjoyed singing with the "Silver Slippers".
He was preceded in death by his Wife, Parents, five Brothers and one Sister
He is survived by six sons: Kenneth Charles Waterbury, Johnny Edward Waterbury, Eugene Helton, Shawn Helton, Ronald Dale Waterbury, and Perry Geary; three daughters: Sharon Ann Collins, Wynee Helton, and Michelle Geary; nine Grandchildren; two Great-grandchildren and one sister, Elizabeth Sidebottom.
The visitation will Friday, August 10, 2018 from 1 to 8 PM CDT and Saturday after 9:00 AM CDT until time of service at Rogers-Oller Funeral Home.
A funeral service will be Saturday, August 11, 2018 at 11:00 AM CDT at Rogers-Oller Funeral Home with Bro. Arnold Moon officiating. Burial to follow in Clarkson Cemetery.