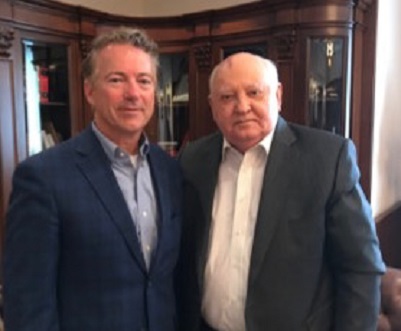 U.S. Sen. Rand Paul continues meeting with Russian officials during his trip to Moscow this week.
On Monday, the Bowling Green Republican met for an hour with Konstantin Kosachev, chairman of the Russian Federal Council Committee on Foreign Affairs.
Paul emerged to announce he had secured an agreement with Kosachev to send members of the Russian Federation to Washington.
He continued his efforts on Tuesday to decrease escalating tensions between the United States and Russia by meeting with former Soviet Union President Mikhail Gorbachev to discuss how to improve relations.
"President Gorbachev was instrumental in bringing down the Iron Curtain and restoring ties with the West, and he knows firsthand the critical necessity of engagement," Paul said in a statement from his office.  "Our conversation further encouraged me that open dialogue between our two nations does not have to be a thing of the past. While our discussion focused on various items, the importance of nuclear disarmament was greatly discussed."
And on Wednesday, Paul, who supports President Donald Trump's efforts to improve relations with Russia, delivered a letter on behalf of the President to Russian President Vladimir Putin. The letter was delivered to representatives of President Putin, as the Russian president has been out of Moscow all week.
"I was honored to deliver a letter from President Donald J. Trump to President Vladimir Putin's administration," stated Paul.  "The letter emphasized the importance of further engagement in various areas including countering terrorism, enhancing legislative dialogue and resuming cultural exchanges."
The White House has not commented on contents of the letter.
(Photo: Rand Paul and Mikhail Gorbachev, courtesy of Kentucky Today)
By Kentucky Today