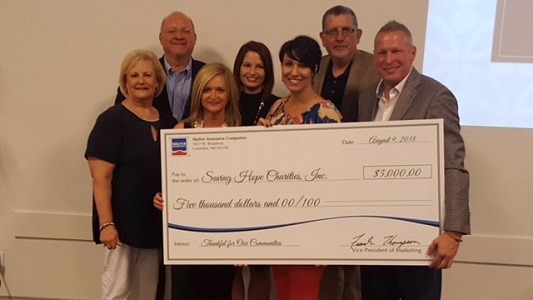 Leitchfield, KY – August 9, 2018 – Each spring, Shelter Insurance Companies holds a Facebook essay contest called "Thankful for Our Communities." Five winners each receive a $5,000 grant for the charity of their choice. This year, Misty Thomas wrote a winning essay about Grayson County, Kentucky, and chose Saving Hope Charities as the recipient of the $5,000 award.
The rules of the contest required entrants to write an essay about what makes their communities special and have their Facebook friends vote on their essay. The essay that earned the most votes was an automatic winner, and the next nine essays with the most votes were submitted to a panel of Shelter judges, who chose the next four winners.
Shelter has always encouraged community involvement, and this contest gives people an opportunity to explain what makes their communities stand out. According to Frank Thompson, Vice President of Marketing for Shelter, "We chose this approach because we wanted to point out the many positive aspects to the communities we serve and honor the people who can make a difference in those areas. We also wanted to find out what's important to the citizens in these communities and help support those causes. This contest was a fun way to do that."
Thomas's essay was called " Grayson County: The Land of Lakes, Bees, Cheese and More" which told of a county rich in industry that has produced Laughing Cow cheese, a NASA rocket scientist, Cover Girl lead scientist, ACM and Oscar winners, two Miss Kentucky crown holders and more. Her essay also told of the area's natural beauty and two lakes that provide ample opportunity for camping and outdoor activities. If golf, camping and watersports aren't your thing, there's plenty of shopping and great restaurants. She also described the town's residents as being generous people who take care of each other in times of need.
The check presentation for Saving Hope Charities was held on August 9, 2018, at the Chamber of Commerce luncheon.  Thomas said, "God is good, and I am thankful for Donna VanMeter who thought of me, and Saving Hope Charities, and when she was presented with this contest."
Thomas's Essay:
Russian Bees, Laughing Cow cheese, NASA rocket scientist, Cover Girl lead scientist, ACM and Oscar winners, Country Music legend fiddler player, Alcatraz escapee, World Renowned Dungeons & Dragons artist, and two Miss Kentucky crown holders…what do all of these have in common? Each of these call the 511 square miles of Grayson County, KY their hometown. Industrial rich, we boost about our manufacturing of Toyota interior car parts, Cub Cadet mowers, Laughing Cow cheese (Baby Bel & soft wedges), lumber, office furniture, air compressors, wooden baseball bats & golf clubs, bee keeping materials & package bees (with your choice of marked or unmarked Italian or Russian hybrid queens), a full line of mandolins & guitars, and we have even inlayed custom guitars for rock stars.

It's not all work in Grayson County, nestled between two lakes, we spend a lot of time playing here. Nolin and Rough River Lakes both have airstrips near them for those who prefer air travel. And for those who travel by boat, there's over 17 square miles of lake water for play & camping adventures. And keep an eye out: word-on-the-street tells of several famous artists who own vacation homes on our lakes. In fact, George Washington himself owned land near Rough River.
If lush Bermuda fairways, bent grass greens surrounded by Kentucky bluegrass rough is what you seek, consider playing Lafayette Golf Course. Covering 250 acres, it takes advantage of the varied terrain on the historic property, and the course offers superior golf for all levels of play. Stay the night in one of our unique lodging options: individual log cabins built in the late 1990's for more of a rustic feel, or be transported back to the early 1800's with a stay in the Green Mansion, which was recently restored to its original glory. It's surely the center piece of the Falls of Rough experience.
 Art in the Park in Leitchfield comes along with springtime flowers, as local artisans display their creations. Summer nights hear the sounds of Bluegrass music as the public square in Leitchfield turns into a stage for many who compete in the Twin Lakes National Fiddler Championship contest. When the landscape colors change, we start looking forward to the State Honeyfest in Clarkson in September; on its heels comes the annual Caneyville Homecoming that sets its event center stage at the former Caneyville High School, which was recently transformed into a community center full of historical Caneyville mementos. Between the festivals, you can spend your weekends at Pine Knob; a place full of adventure: daytime climbing the sandy knob, a remaining one-room schoolhouse, a diner, and theatrical plays depicting the history of the Doc Brown Legend, and Daddy took the T-Bird Away. And…bring your containers to catch some of the freshest water that runs from an open spring. It's a delightful treat to those who covet fresh water tasting. Want to do more hiking? Logsdon Valley Park starts it trail in Leitchfield and offers several miles of hiking and painted rock hiding/finding for those who are interested. There's also a crashed plane to see…it's quite the adventure.  Shopping in Grayson County also has its own history and uniqueness: Caught Ya Lookin' creates one-of-a-kind clothing and handbag options for women and children, with a large presence on Amazon. The sewing facility once sewed Coach handbags, and clothing for Ralph Lauren, who visited the manufacturer in the 1990's. Local boutiques on the Public Square, and iron workers draw lake crowds into the city during the summer.
Looking for local diners and dives? Here's a solid must-try list: if you're traveling through Leitchfield stop at Sandy's for their hot fudge sundaes & milkshakes, Farmers Feed Mill has the best catfish around & banana split cake. Caneyville just opened The Dinner Bell restaurant and locals boost it's the best friend chicken this side of the Mississippi, and up the street is The Dairy Barn, again, go for the milkshake. Kaye's in Clarkson is a local tradition with country style food the way grandma would make it, and across the road is Redneck Ranch BBQ…everything gets smoked there. Ralph's Market near Nolin Lake keeps your belly full with bologna sandwiches and hotplate lunches, but on the other side of the county you must have the steak at The Dam General Store, or the buffet at Grayson Landing Restaurant in the lower level of the state park lodge; they also host a wild game buffet certain times of year. If you're looking for a local pizzeria then you must try Lil' Dave's, and Rough River Pizza Company; who also doubles as a bed and breakfast.
  If the above offerings don't entice you to visit then maybe the heart of Grayson County will: its people. Grayson County is an extremely generous community, and we take care of each other. In 2016, Saving Hope Charities opened its doors to offer a housing and life-training program to women who were in a homeless situation. If you listen to our local radio station often, you soon learn we hold our fair share of fundraisers for local families struggling with life-threatening disease. And if you just want to sip coffee, shoot the breeze, or worship in one of our many churches…you'll quickly feel like family.
 6,000 characters fails me to properly describe the beauty and robust history of my community, but hopefully now you have peaked through the window.
***
The Shelter Insurance Companies offer auto, home, life, farm and business insurance services to customers in 19 states via a network of local insurance agents. Shelter is rated "A" Excellent by AM Best and Api by Standard & Poors. For more information, contact Anna Hargis, Director of Advertising at 573-214-4621.