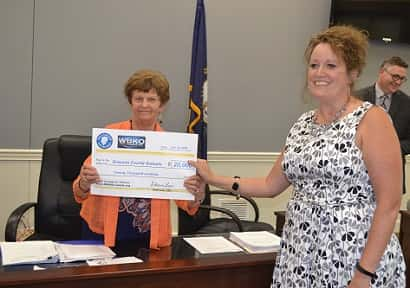 At Thursday night's Grayson County School Board meeting, Director of Special Education, Monica Heavrin, presented a check for $20,000 to the school board on behalf of the WHAS Crusade for Children.
The money will be used to implement the Second Step program in the district.
Second Step is a program "rooted in social-emotional learning that helps transform schools into supportive, successful learning environments uniquely equipped to encourage children to thrive," according to the Second Step website.
The program, in addition to providing social-emotional learning also promotes bullying prevention and child protection, is utilized in more than 70 countries around the world and reaches approximately 14 million students yearly.
Summer Reading Program
Intervention Teacher Kelley Rainey, who led the district's Summer Reading Program, reported to the board that 99 students participated in the six-week program designed for students who need additional help reading. Students already struggling to maintain their reading skills at grade level risk falling even further behind during the summer, but the Summer Reading Program aims to continue to provide support and instruction for those at-risk students.
Rainey said of the students who participated, all displayed reading growth during the summer.
(Photo: Monica Heavrin (r) presents School Board chair Carolyn Thomason with a $20,000 from Crusade for Children)
By Ken Howlett, News Director
Contact Ken at ken@k105.com or 270-259-6000