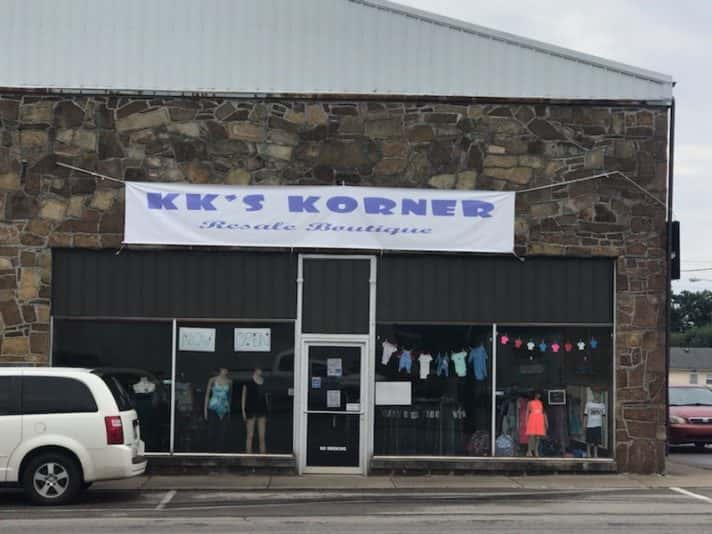 (Leitchfeild, KY) – A corner building that has sat empty for most of the past decade has seen new life breathed into it recently as two women have found a way to turn their personal need into an entrepreneurship opportunity.
Owner Kelly Calihua said she was constantly looking for name brand clothing for her seven children at a discount price, and realized she could help other parents do the same thing by opening a retail store that specializes in gently used, name brand clothing.  She and her business partner Kasey Brooks decided to open their store in Leitchfield, KY, even though they hail from Ohio County.  Calihua says she plans to move to Leitchfield eventually.
Calihua says she lost her husband in a tragic work accident recently, and she decided then she would invest in her families future with a business that not only helped hers, but others by offering nice clothing options for reasonable prices.
The boutique also offers to help those in need through collecting clothing and dispersing to the less fortunate free of charge, according to their facebook page.   If you would like to donate to this cause you can reach the ladies through their facebook page: https://www.facebook.com/KKSRESALEBOUTIQUE/ or email them: kks_korner@yahoo.com, or call (270) 589-1975
The store is located at 116 West Main Street, Leitchfield, KY.  They are open Monday – Friday 9:00 a.m. – 7:00 p.m., Saturday 10:00 a.m. – 6:00 p.m.  They specialize in Mens, Womens, Youths, Childrens, and Babies clothing and accessories.
You can take your boutique or name brand clothing by the store and leave for the ladies to sort through; they pay cash for your pieces.