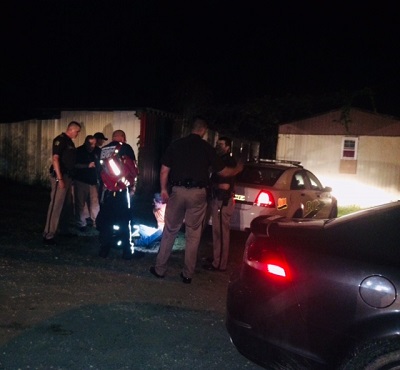 A little more than an hour after a Leitchfield man fled from a Grayson County Sheriff's Deputy, another man fled from Leitchfield Police Officer Joe Overton.
At approximately 9:45 Thursday night, Overton was patrolling in the north end of Leitchfield, when he stopped on Orchard Street after seeing a vehicle parked in the middle of the road. When Overton exited his vehicle, the owner of the illegally parked car fled on foot.
Officer Overton chased 46-year-old Deamon Shelby, of Overton County, Tennessee, about 100 yards through a mobile home park before Shelby stopped and took an aggressive, fighting stance with the officer. Overton responded by punching Shelby in the face, ending the chase. Law enforcement requested EMS for the suspect, who was transported to University of Louisville Hospital with facial fractures.
He faces multiple charges upon his release.
Multiple city and county law enforcement personnel assisted Overton at the scene.
By Ken Howlett, News Director
Contact Ken at ken@k105.com or 270-259-6000