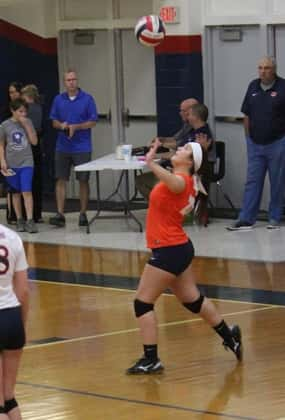 Behind the outstanding blocking of freshman Cassidy Morris and senior Mary Hardesty, and the powerful hitting of  seniors Savannah Aull and Nina Wathen, the Whitesville Trinity Lady Raiders won the championship of the 12th District 3-1 over the Lady Cougars of Grayson County Tuesday evening in Brownsville.
The Lady Cougars trailed by as many as five points in the first set, but came back to win that set 25-22. After that, it was pretty much all Trinity. Midway through the second set, the Lady Cougars established a narrow lead, but tied at 20-20, Wathen served five straight points to even the match at a set apiece. Morris had a block in the run, Aull had two kills and Wathen served an ace. At set-point, the Lady Cougars were whistled for a double-hit, one of about half a dozen such calls that went against Grayson County during the match.
Grayson County trailed by seven points twice in the third set, the last time coming at 9-16, but they were able to battle back to within a point of the lead twice. Setter Alexis Hart served a Trinity set-point when sophomore Brieanna Boll had a block on a Trinity kill attempt, but the ball came down out of bounds, giving the second set to the Lady Raiders.
Totally disheartened, the Lady Cougars were never in the final set. Grayson trailed by four, 8-12, when, with Wathen serving, the Lady Raiders applied the coup-de-grace with a 7-0 run. At match-point, Wathen, appropriately enough, came up with a kill to end the game.
Following the game, awards were handed out. The All-Tournament team was named with senior Laura Higdon and sophomore Ella Robinson being Grayson County's representatives. Others on the team were Brittany Booker, Colsi Stauffer and Chloe Mattingly, from Trinity, Emma Woodcock, from Edmonson County, and Autumn Gidcumb, from Butler County.
Higdon and Robinson were also named to the All-District Regular Season team, along with Aull and Wathen, from Trinity, Woodcock and Madison Doyle, from Edmonson County, and Hannah Whittinghill and Delaina Flener, from Butler County.
The All-Academic Team consisted of Hardesty, from Trinity, Chloe Cox, from Grayson County, Karissa Waldrop, from Edmonson County, and Whittinghill, from Butler County.
By Don Brown, Local Sports
Reach Don at donbrown@k105.com