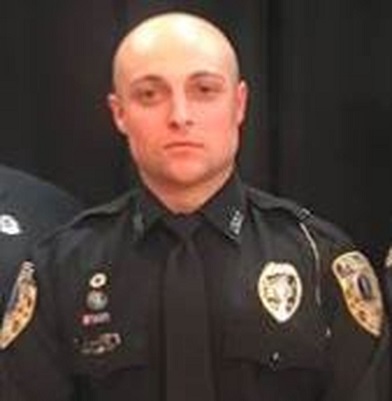 Kentucky State Police responded the shooting of an Owensboro police officer Wednesday morning.
A Kentucky State Police spokesman said the preliminary investigation revealed that at approximately 5:30 Wednesday morning, Owensboro Police Officer Zachary Morris, 23, responded to a suspicious person possibly breaking into parked vehicles near Hathaway Street, a densely residential area near the Ohio River.
Morris arrived on scene and observed a person matching the description given to authorities. The suspect fled on foot with Morris giving chase. The officer, who has been on the job for two-years, lost sight of the suspect behind homes in the 500 block of Hathaway Street, police said. As Morris was checking a fenced-in area at 522 Hathaway Street, the homeowner of that residence shot the officer.
Police said Morris was wearing a "ballistic vest" but was struck in the "lower abdominal area." He was transported to Owensboro Health Regional Hospital and is recovering after emergency surgery. He is listed in good condition.
The homeowner was detained for questioning but no charges have been filed. The homeowner has since been released.
State police also said Morris discharged his weapon at some point during the incident, but no one was struck.
(Photo courtesy of the Owensboro PD Facebook page)
By Ken Howlett, News Director
Contact Ken at ken@k105.com or 270-259-6000