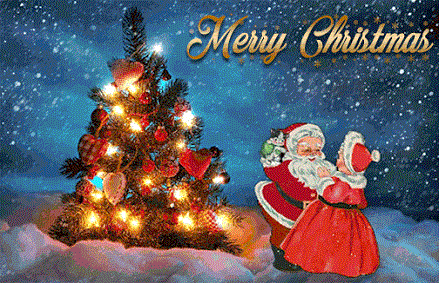 This weekend the Christmas season officially kicks-off in Grayson County has several yuletide events are scheduled.
Friday night at 5:00, Leitchfield's Christmas in the Park Lighting Ceremony will be held at Beville Park. Lawler and Wilkey Elementary students will sing for the crowd prior to the arrival of Santa. Cookies and hot chocolate will be available.
Friday night at 6:00, Christmas Tree Lighting Ceremonies will be held at the Clarkson City Hall and Community Center, and in Caneyville at the Purple Flash Center. At Clarkson, there will be music and refreshments as well as a visit from Santa. Refreshments will be provided at Caneyville.
Saturday morning at 7:30, the Hometown Christmas Candy Cane 5K-10K Run/Walk will begin at Beville Park.
Beginning Saturday morning at 8:00, the Centre on Main will host a Christmas Craft Bizarre where the work of several local artists will be for sale. The Bizarre will be open until 2:00 Saturday afternoon.
Leitchfield's Hometown Christmas Parade is slated to begin at 10:00 Saturday morning. This year's theme is "A Very Candy Christmas." The parade will begin at the Grayson County Fairgrounds and proceed south on Hwy 259 to Southgate Mall. ** With rain likely Saturday morning, parade organizers, via the Grayson County Chamber of Commerce Facebook page, will inform residents on Friday night if the parade has been cancelled; K105.com will keep everyone updated.
From 10:00 until 2:00 on Saturday, the Jack Thomas House will host a Hometown Christmas Open House. The historic Leitchfield residence will be decorated and the tree will be trimmed. Hot chocolate, hot apple cider and will cookies will be served. Local school groups will be caroling and Santa will be there from 11:30 until 12:30.
The Grayson County Public Library will host a Kiddie Christmas event Saturday afternoon from 1:00 until 3:00. There will be crafts, games and other activities for kids 11 and younger as well as tween and teen activities. Santa will also make an appearance, and at 3:00, Animal Tales will perform its Holiday Safari live animal show.
By Ken Howlett, News Director
Contact Ken at ken@k105.com or 270-259-6000