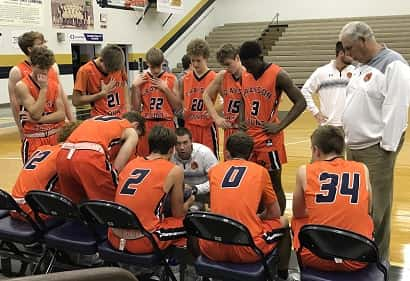 In the past, Cougar trips to play Louisville teams on their home courts have been infrequent, and when they have played, they have not met with a lot of success.
But on Saturday at Fairdale, the Cougars put on a display of quickness and accuracy that left the home-standing Bulldogs and their fans shaking their heads as Grayson County ran rings around them. In all, the Cougars hit 29 field goals on the day, 16 of which were lay-ups as the Bulldogs just could not defend them.
Junior forward Nolan Shartzer had the game of his career, putting together a double-double performance by scoring a career-high 33 points and pulling down 10 rebounds. Of his 10 two-point field goals, seven of them came on lay-ups.
But Shartzer wasn't the only weapon in the Cougars' arsenal. Three other players scored in double figures for the Cougars: Q'Daryius McHenry and Wyatt Schultz both scored 13 points, and Spencer Sharp added 12, all of them coming in the second half when the Cougars pulled away.
The Cougars trailed by two points, 16-14 at the start of the second period when they put their stamp on the game by scoring 12 unanswered points to grab a 10-point lead, 26-16 at the 4:45 mark.
The Bulldogs scored seven straight to pull to within three of the lead, 29-26 with 15 seconds left in the half, but Shartzer hit a pair of free throws with three seconds left and the Cougars took a five-point lead, 31-26 at the half.
The Cougars increased their lead to nine points, 39-30 at the 5:07 mark, when they put together another big run. Sharp's lay-up at the 2:23 mark capped a 14-0 Cougar run that increased their lead to 23 points, 53-30. They still led by 23 points, 55-32 heading into the fourth quarter.
When McHenry hit 1-of-2 at the line at the 4:01 mark of the fourth quarter, the Cougars held their largest lead of the night, 25 points at 70-45.
Thinking the game may have been over at that point, the Cougars then went into something of a shell. The Bulldogs were able to close out the game with an 18-5 run to make the final score a lot closer than it might have been.
Brandon Parker led the Bulldogs with 23 points.
In addition to his 13 points, McHenry added five rebounds and four assists. Josh Embry closed out the scoring with four points and he added eight rebounds as well.
By Don Brown, Local Sports
Reach Don at donbrown@k105.com