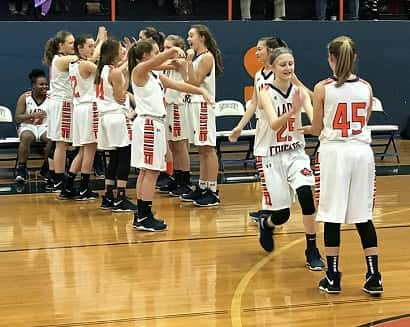 Playing against the visiting Rebels of St. Romuald middle school, Grayson County's Lady Cougars left little doubt about what the outcomes of the seventh and eighth-grade games would be Monday night at Cougar Gym.
The seventh-grade girls held the Rebels scoreless in the first half on their way to a 21-11 win. The eighth-graders held the Rebels without a point until there was only 1:05 left to play in the second quarter, and they went on to win 37-21.
SEVENTH-GRADE GAME
The Rebels were unable to deal with the Grayson County pressing defense and it led to 14 St. Romuald turnovers in the first half. The Lady Cougars converted those turnovers into 11 points and they held a 17-0 lead at the half.
The press was off in the second half when the Rebels finally got on the board. Kylie Carby hit 1-of-2 at the line for St. Romuald's first point at the 5:01 mark of the third quarter and the Rebels trailed 18-1. It was 20-7 as the teams entered the fourth quarter.
Coach Lori Oller had begun subbing for her starters in the third quarter and continued to empty her bench in the fourth quarter, when the Lady Cougars scored just a single point, but held on for the win.
Coray Milam led the Lady Cougars with eight points, while Sydney Perkins added seven. Hannah Franklin and Addy Bratcher both scored two points, while Cora McMillan had one to complete the scoring. McMillan also led the team with six rebounds.
EIGHTH-GRADE GAME
Scoring by either team was a rare occurence, especially in the first period. Grayson County led just 5-0 at the end of the first quarter, and led 14-2 at the half.
The action picked up in the second half. Grayson County put together a 10-0 run that pushed their lead to 19 points, 24-5 with 2:45 left in the third quarter. They led by 13 points, 26-13 at the start of the fourth quarter.
Annie Kiper led all scorers with 12 points. Tori Carroll recorded a double-double with 11 points and 11 rebounds.
Kelsey Cornwell scored eight points, while Mikah Lee, Elizabeth Lindsey and Shelby Davis had two each to round out the scoring.
By Don Brown, Local Sports
Reach Don at donbrown@k105.com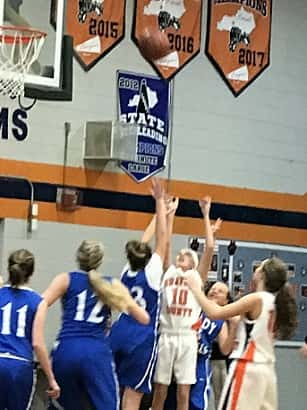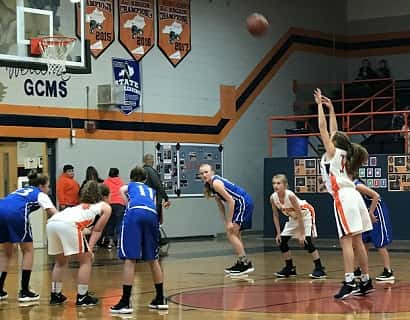 .