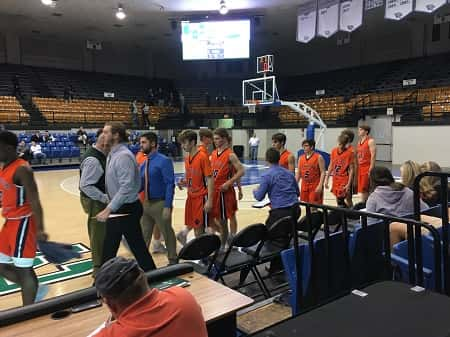 Coming off a win over Breckinridge County the previous night, Owensboro Catholic entered Tuesday's game against the Cougars with a new sense of confidence. After sticking with the 3rd Region favorites for much of the first half, the Cougars couldn't keep up in the second as the Aces cruised to a 57-39 victory.
Grayson County got off to a quick start in the first quarter as they jumped out to an early 7-4 lead after a three pointer from Wyatt Schultz. This gave a spark to the Cougar offense and forced a timeout from Ace head coach Tim Riley.
That moment would turn out to be one of the last leads of the game for the Cougars as the size advantage of the interior of the Owensboro Catholic offense began to have an effect on the game. The first quarter ended with a 17-13 advantage for the Aces.
The second quarter saw Q'Daryius McHenry begin to heat up on offense as he had six points to keep the Cougars within striking distance at the half, but the rest of the team struggled to make shots to help the sophomore guard pace the offense.
After the half, it was all Owensboro Catholic. Grayson County head coach Travis Johnston consistently asked his team, "where their energy was," as the team came out flat and struggled to get anything going on offense. On the topic after the game, Johnston said, "I know it's hard. I played. You come to Owensboro again on a Tuesday night… you barely got 50 people in the stands, but that is where a good team has to create their own energy and I didn't think anybody did a very good job at that."
The lack of energy proved to be the main difference as the Aces stretched out their lead to as much as 20 before finally finishing off a 57-39 win over the Cougars.
McHenry led the way with 20 points. Spencer Sharp added 6. For Catholic, Andrew Riney, Drew Hartz and Ty Vincent all finished in double figures.
With the loss, Grayson County falls to 2-2 on the season. The loss marked the 7th straight loss at the Owensboro Sportscenter for the Cougars and their 9th out of the last 10.
They will travel to Edmonson County on Friday night to open 12th District play against the Wildcats. Our coverage will begin with the Locker Room Show at 5:40 on K105.
Please remember to follow our sports team on Twitter @K105sports. There, we have updates for almost every Grayson County game and will have giveaways throughout the season.
By Sam Gormley, Play-By-Play Announcer/Local Sports
Reach Sam at sam@k105.com