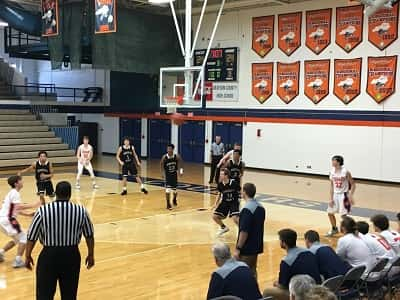 After controlling the lead for most of the game, the Cougars allowed for Henderson County to tie the game at 40 in the closing minutes. From that point, Grayson County scored the final 11 points to take down the Colonels, one of the top teams in the 2nd Region, by a final score of 51-40.
Henderson County came into the game playing an up-tempo offense that averaged attempting 23 threes a game while making nearly 10 of them. Early on, it was clear that the Cougars were going to force them to make shots from inside the arc and not let the three point shot fall. Grayson County held the Colonels to only four made three pointers the entire game more than half of what their previous season low was. (8 three pointers vs. Marion County)
After scoring a game high 23 points the previous night against Butler County, senior guard Spencer Sharp picked up immediately where he left off by scoring 10 points in the first half, including two three-pointers, which helped give the home team a 24-22 halftime lead. Two of those points came on an interesting sequence that saw Henderson coach Tyler Smithhart pick up a technical foul after inserting a player into the game who wasn't listed in the official scorebook.
Following halftime, junior forward Nolan Shartzer took over the scoring for the Cougars by finishing with 14 second half points and 18 points for the game.
Henderson County continued to try to fight back into the game and finally were able to after a quick 5-0 run to start the 4th quarter; tying the score at 38. This quick spurt was followed by a quick timeout by Smithhart. During the timeout, Grayson County head coach Travis Johnston preached confidence to his team.
From that point, the Cougars took over the game which included going a perfect 5/5 from the charity stripe which helped clinch the 51-40 victory. In the game, Sharp finished with 14 points and sophomore Q'Daryius McHenry had 11 points and 16 rebounds. Hunter Tomes and Matthew Loughran also found themselves in the box score with 4 points a piece.
With the win, Grayson County improved to 6-10 on the season. They will begin a three game road trip on Tuesday night with a game against Ohio County. You will be able to hear the game between the Cougars and Eagles beginning at 7:10 on Leitchfield's Country Station 103.9 the Moose.
Please remember to follow our sports team on Twitter @K105sports. There, we have updates for almost every Grayson County game and will have giveaways throughout the season.
By Sam Gormley, Play-By-Play Announcer/Local Sports
Reach Sam at sam@k105.com