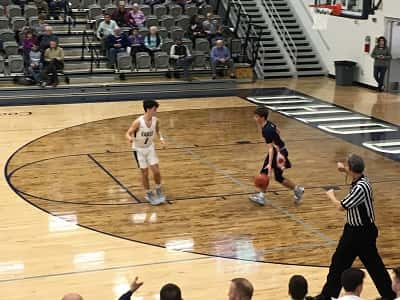 Coming off the heels of what head coach Travis Johnston called one of their best wins in a few years, the Grayson County Cougars defeated Ohio County on the road Tuesday night by a final score of 49-44.
A major storyline of the game surrounded Cougar guard Q'Daryius McHenry who played for the Eagles last season. This was his second trip back to Hartford to play a game for Grayson County. In September, he rushed for 125 yards and two touchdowns in a blowout win in the football matchup between the two teams.
Spencer Sharp continued his hot shooting in the first quarter by hitting three straight three pointers to start the game for the Cougar offense and they didn't look back from there.
Junior forward Nolan Shartzer added eight points in the second quarter of play to help Grayson County hold a 26-18 lead at the end of the first half.
After the break, the Cougars slowed the pace down to hang on to their lead. At one point in the quarter, they stretched the lead out to double digits, something that they ended up doing three more times throughout the game. Shartzer picked up where he left off from in the third quarter by scoring 6 of the 8 Grayson County points.
Like any good team, Ohio County fought back and brought the game to within two points in the closing minutes. The Cougars took that point to turn to their leading scorers in Sharp and McHenry who went a combined 8/10 from the free throw line in the quarter to give them the five point win; 49-44.
Shartzer was the leading scorer for the Cougars with 17 points, Sharp added 16 and McHenry had 12 to finish off the double digit scorers.
For Ohio County, Trey Lewis led with 14 points and Grant Tichenor added 11.
With the win, Grayson County improved to 7-10 on the season and won their fourth game in a row. They will travel to Butler County on Friday night to attempt to extend their winning streak to 5 games which would be their longest since December 2014.
Last Friday, the Cougars defeated the Bears 52-36 at the Cougar Den. You will be able to hear the game beginning with the Lady Cougars game on K105 starting with the Locker Room Show at 5:40.
By Sam Gormley, Play-By-Play Announcer/Local Sports
Reach Sam at sam@k105.com