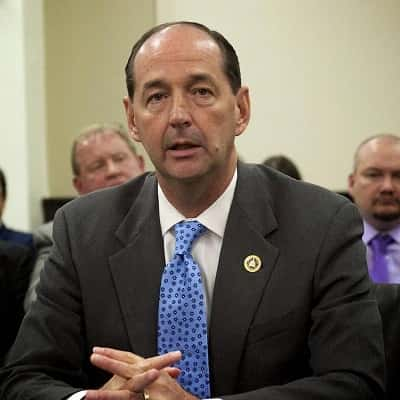 Democrat Rocky Adkins has proven himself a formidable gubernatorial candidate, raising more than $620,000 in the two months since he entered the race.
"We're honored and humbled to have strong support across Kentucky," said Adkins, the longtime House Democratic floor leader from Sandy Hook. "The outcome of our fundraising effort demonstrates the strength of this campaign."
Adkins is one of three major Democratic contenders to enter the race. Attorney General Andy Beshear, the first Democrat to announce, has amassed $1.16 million in contributions over the past six months. Former state Auditor Adam Edelen filed his candidacy papers on Monday, allowing him to begin fundraising.
Beshear has spent some $300,000 of his war chest, reporting Tuesday that he still has $850,000 on hand.
Adkins announced his candidacy for governor on Nov. 14, a week after Election Day and halfway through the reporting period. Adkins said he waited to enter the race so that his fundraising wouldn't take away from potential contributions to Democrats running for seats in the Legislature. He also chided Beshear for fundraising before the legislative races were decided.
"I entered this race because I believe Kentuckians deserve better," Adkins said in a statement. "They deserve a leader that will work for them, not against them. As governor, I will be a voice for the entire commonwealth — from Paducah to Pikeville."
Adkins serves as state representative for the 99th District in Elliott, Lewis and Rowan counties. He has been campaigning statewide since announcing. The 59-year-old Adkins has been a state legislator since he was 26 years old, and had served 14 years as the House majority floor leader before Republicans won majority control two years ago.
Adkins described himself as a Kentuckian "from the top of my head to the bottom of my feet" when he announced his campaign in November. He describes himself as a pro-life Democrat, which could make him especially popular in rural eastern and western Kentucky where voters tend to be socially conservative. Political observers believe running as a moderate Democrat could give Adkins a leg up in both the primary and general elections.
Former Gov. Paul Patton, a fellow eastern Kentuckian who served as governor from 1995 to 2003, has endorsed Adkins, who has had a long career in the coal industry. His support of coal further differentiates Adkins from most modern-day Democrats.
"I want to see all regions of Kentucky do better," Adkins said. "I want us all to do the best we can do."
Incumbent Gov. Matt Bevin has said he will run for re-election but hasn't yet filed candidacy papers. The deadline is Jan. 29.
Republican state Rep. Robert Goforth of East Bernstadt, a longshot Republican who is beginning his first full term as a representative, announced Tuesday that he and running mate Williams Woods will seek the Republican nomination.
By Tom Latek, Kentucky Today