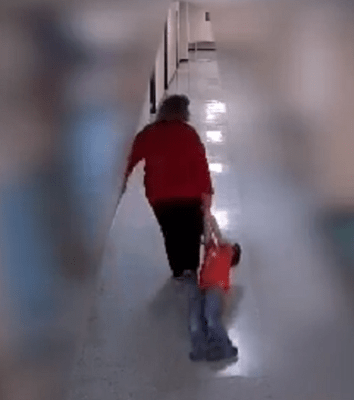 A Greenup County elementary school teacher who dragged a nine-year-old boy with autism out of a classroom and down hallways has been fired.
The teacher, Tina Abrams, can be seen on surveillance video dragging the boy down a hallway by his wrist at Wurtland Elementary School. The incident took place on October 24, 2018, according to the child's mother, Angel Nelson, who posted a video of the assault on her personal Facebook page.
Abrams can be heard yelling at the boy to "Get up!" as she drags the child down a hallway on his back and later his knees.
According to the boy's mother, he suffered a wrist sprain and possible wrist fracture.
After an investigation by Kentucky State Police, Abrams, a resource teacher at the school, was fired on Monday. No criminal charges have yet been filed.
The Greenup County School District issued the following statement:
The Greenup County School District prioritizes the safety of our students. The district followed established safety protocol as soon as this situation became known. The parent was contacted immediately and the student was assessed by the school nurse and referred for outside medical evaluation. Child Protective Services was contacted and Kentucky State Police opened an investigation. 
The teacher was removed from the school and a formal investigation was conducted. The superintendent also followed protocol and reported the incident to the Kentucky Education Standards Board. The EPSB determines whether or not a teacher keeps their teaching certificate. All GCSD staff are trained to prevent incidents of restraint. Each school has a specially trained team to address immediate issues. In addition, each school has teachers specially trained to address autism related behaviors.

On September 14, 2018, a teacher and school nurse at Tates Creek Middle School in Lexington were recorded on surveillance video dragging an 11-year-old boy with autism down the hallways of the school.
The teacher was fired. The nurse was employed by a local agency. It's unclear what punishment she was given.
By Ken Howlett, News Director
Contact Ken at ken@k105.com or 270-259-6000