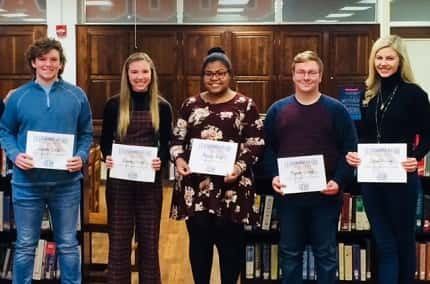 At Thursday night's Grayson County School Board meeting, Grayson County Middle School's Amber Phillips and Jessica Kiper presented a plaque to Bel Brands' Missy Simonson as a way to thank the company for its $2,500 donation to the middle school's Mentorship Program and $1,000 donation to Cougar Zone.
Grayson County High School Principal Josh Baldwin recognized five teachers who have helped fill the void left by the tragic death of long-time GCHS teacher Phyllis Minton, who died in late September.
Among those honored by Baldwin were: Bonnie Langley, for teaching AP classes, Kim Dennis, for teaching Math, Erina Duvall, for teaching science and being the ESS Coordinator, Kyle Powell, the new head of the Math Department, and Elizabeth Priddy, who works with honor students.
Also recognized by Baldwin for doing an outstanding job – teacher Lisa Haycraft, for heading the digital literacy program, and School Resource Officer Ian Renfrow for "being a true pro, and working so hard to keep the students safe."
Baldwin additionally recognized the senior class officers, Lincoln Nichols, Emery Crume, Princess Reed, Dylan Geary and Shanna McClung, as the group organized a Winter Formal and raised $3,800 which will be used to create a memorial garden in front of the high school.
Minton scholarship
It was announced that because of the generosity and support from citizens of the community and local businesses, $13,500 has been raised for the Phyllis Minton Scholarship.
2019-2020 school year calendar
Board members voted to approve the 2019-2010 school year calendar.
The first day of school for students will be August 7, with the last day of the school year May 15. Fall Break will be from October 7 until October 11, and Christmas Break will be from December 20 until January 6. Spring Break will be from April 6 until April 10.
The school board sponsored an internet survey offering three options for the school year calendar, with the above option receiving 57 percent of the vote.
Makeup day
It was also announced that President's Day, Monday, February 18, will serve as a makeup day for one of the three days missed this school year due to inclement weather.
(Headline photo: Senior class officers (l-r) Lincoln Nichols, Emery Crume, Princess Reed, Dylan Geary, Shanna McClung)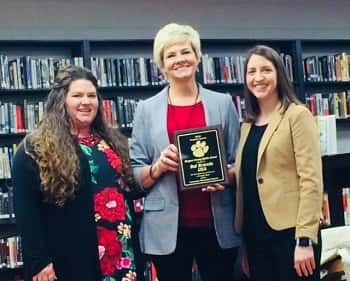 By Ken Howlett, News Director
Contact Ken at ken@k105.com or 270-259-6000