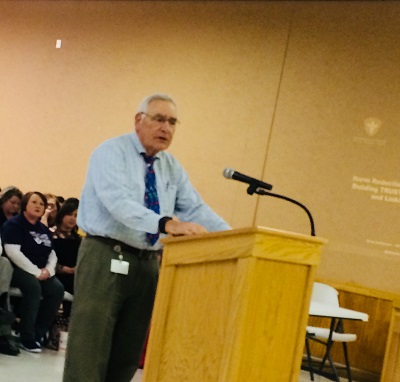 Tuesday night, after hearing a nearly three-hour debate concerning the implementation of a needle exchange program, Grayson County Fiscal Court failed to vote on the matter because the motion to vote on the program was not seconded.
Magistrate Darin Whitley made a motion that the court vote on implementing the exchange for 13 months, and at that time, re-examine whether the measure was affective. No one seconded his motion.
No vote was held after magistrates heard testimony from six doctors, including local physicians, Dr. Joseph Lee, Dr. Kenneth Green, Dr. Isaac Miller, Dr. Gay Fulkerson, and Dr. Bryce Meredith, who supported a needle exchange because such programs are generally credited with stopping the spread of disease.
State Sen. Steve Meredith, Grayson County Health Department Director Mindy Renfrow, Twin Lakes Regional Medical Center Medical Stabilization Director Jessica Embry, Twin Lakes Regional Medical Center CEO Wayne Meriwether, and a former drug addict, Ashley McCarty-Duford, who now helps addicts enter treatment programs via needle exchanges around Kentucky, all spoke in favor of a needle exchange.
The effectiveness in stopping the spread of disease, the primary goal of a needle exchange, was the overriding theme by those in favor of the program, with many physicians citing the over 250 cases of Hepatitis C in Grayson County (an incredibly high number when considering Grayson County's population is around 28,000 residents), as well as the county's HIV (eight) and Hepatitis A cases (30), as reasons for action.
A comparison was made by many of the doctors, particularly Dr. Greg Corby-Lee, an HIV specialist recently retired from the Kentucky Department for Public Health, between Grayson County and Scott County, Indiana, where IV drug use propelled the rural county to experience an incredibly alarming number of HIV cases through the sharing of dirty needles.
Scores of intravenous drug users in the county's tiny city of Austin, Indiana, population less than 2,500, contracted the virus that causes AIDS from sharing and re-using dirty needles and cotton. The outbreak, which occurred in 2015, saw 210 people in Scott County, population 25,000, be diagnosed with HIV. Most of the case were concentrated in Austin, and nearly 95 percent of the infected also have Hepatitis C.
Speaking against a needle exchange were Sheriff Norman Chaffins, Jailer Jason Woosley, Commonwealth Attorney Rick Hardin, and RN Angela Shartzer. Because a needle exchange in Grayson County would be the only program in the region, Grayson County County Attorney Jeremy Logsdon cited a concern that addicts from surrounding counties would travel to Grayson County to participate in the program. But the common theme among those speaking out against the program was the discomfort caused by the thought of enabling drug addicts, by giving addicts free needles.
Chaffins, in ending his public comments, asked magistrates a question – If it was your son or daughter who was an addict, would you give them a clean needle?
After all presenters and those with comments were heard, and a vote was not taken, Woosley took magistrates to task, telling the group in open court, "I'll probably regret this, but I'm usually brutally honest … It's disheartening for any motion to die because of a lack of a second. I think you guys were put in office to make decisions for the citizens and I think you should be doing that … I think if it comes back around, you guys need to be prepared to make a decision."
Magistrate Tommy Higdon said in response, "I'm not prepared" and that he needs "more time to do the research," even though magistrates knew, or should have known, the needle exchange issue was coming before them after the Leitchfield City Council approved the measure in October (some of the current magistrates, including Tommy Higdon, were essentially elected to Fiscal Court in May because they ran unopposed in the November General Election).
Magistrates, though, not holding a vote leaves open the likelihood of Fiscal Court again taking up the controversial measure at a future date, according to Judge-Executive Kevin Henderson.
Magistrate Robbie Higdon was unable to attend the meeting.
(Headline photo: Dr. Joseph Lee speaking to GC Fiscal Court)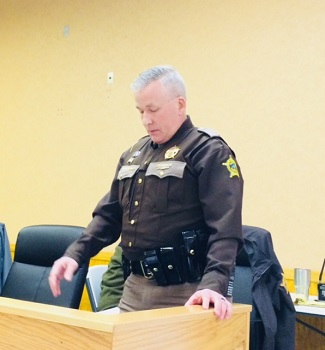 By Ken Howlett, News Director
Contact Ken at ken@k105.com or 2760-259-6000