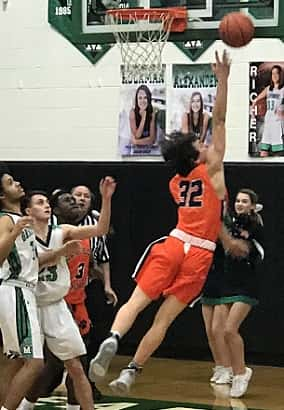 The Cougars went on the road on Tuesday and came home with a 56-52 win in overtime at Meade County to improve to 12-14 on the season.
The Cougars held a three-point lead, 46-43 when Chris Armstead hit a three-pointer from beyond 30 feet that beat the buzzer and sent the game into overtime.
Nolan Shartzer led all scorers in the game with 24 points, while Q'Daryius McHenry recorded a double-double night with 13 points and 11 rebounds.
The first period ended in a 10-10 tie, but the Greenwaves closed out the second quarter on a 9-3 run to grab a seven-point lead, 22-15 at the half. Meade then opened the third period with a 9-6 run to take their largest lead of the game, 10 points at 31-21 with 3:05 left in the period.
That's when the Cougars came roaring back. They scored 11 unanswered points to take a 32-31 lead at the 7:00 mark of the fourth quarter.
The lead then changed hands on five straight possessions, with the Greenwaves taking a two-point advantage, 38-36 on an old-fashioned three-point play by Chaney Weick with 5:19 left in regulation.
The Cougars responded with six straight to take a four-point lead, 42-38 with 3:46 left.
Leading by a point, 44-43, the Cougars went to the line on back-to-back possessions with the chance to ice the game, but Josh Embry went 1-of-2 with 37 seconds left, and Shartzer went 1-of-2 with 16 seconds left, leaving the margin at three points, 46-43.
That left time for Armstead to hit his desperation heave from near half-court to send the game into the overtime period.
Weick opened the scoring in the overtime period with a 10-foot runner, but the Cougars responded by hitting eight straight free throws to go up by six points, 54-48 with 31.7 seconds remaining, and they held on for the win.
Weick led the Greenwaves with 20 points, while Armstead scored 15 before fouling out with 47 seconds left in the overtime period.
In addition to his 24 points, Shartzer added seven rebounds. Wyatt Schultz, in the starting lineup in place of Spencer Sharp, finished with seven points, as did Hunter Tomes, who also added five rebounds. Josh Embry scored three points and Matthew Loughran added two to close out the scoring.
By Don Brown, Local Sports
Reach Don at donbrown@k105.com