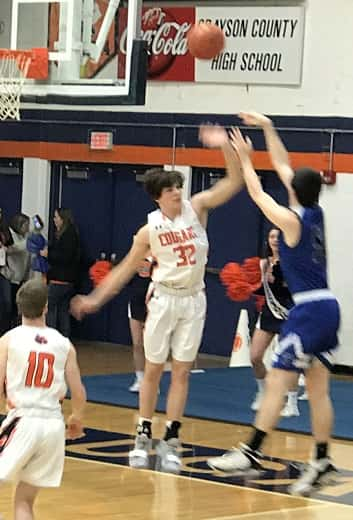 With last Friday's 54-51 win over the Whitesville Trinity Raiders, the Cougars clinched the number-one seed in the upcoming 12th District Tournament. They will face the Raiders again in the opening round of the tournament.
This was a close game from the start. Trenton Morris hit a three-pointer with 43 seconds left in the first period that broke an 8-8 tie and gave the Raiders a three-point edge heading into the second period.
The Cougars then put on a 13-6 run to take a four-point edge, 21-17 with 3:31 left in the half. The Raiders responded by outscoring the Cougars 4-2 the rest of the way and the Cougars held a narrow, two-point lead, 23-21 at the break.
The Cougars then opened the third quarter on a 9-4 run to grab their largest lead of the night, seven points at 32-25 with 4:12 left in the period.
In furious action, the Raiders came roaring back, outscoring the Cougars 18-11 to knot things at 43-43 heading into the final period of play.
With the Cougars leading by four, 47-43 at the 5:32 mark, Whitesville reeled off six straight to take a two-point lead, 49-47 with 3:11 left to play. Grayson County responded with four unanswered points to go back in front 51-49 with 1:56 left to play.
Morris hit a 10-footer with 1:37 left to tie the score one last time, 51-51. Hunter Tomes then scored off a nice assist from Spencer Sharp, to put the Cougars in front to stay.
On the next Whitesville possession, the Cougars managed to tie up the ball and with the arrow in their favor, took possession with 47.8 seconds left.
Following a timeout, Sharp went to the line with 27.2 seconds left in a one-and-one situation. He made the first, but missed the second shot making it a three-point lead, 54-51.
Whitesville took a timeout with 9.7 seconds left, but back on the floor they could not get a shot to fall and the Cougars celebrated their win.
Morris led the Raiders with 14 points, while Landon Hall and Ethan Howard both scored 11.
Q'Daryius McHenry led the Cougars with 17 points, and he also led the team on the glass with eight rebounds. Nolan Shartzer scored 16 points and led the team with five assists.
Sharp and Tomes both finished with eight points, while Josh Embry added three and Wyatt Schultz two to complete the Cougar scoring.
By Don Brown, Local Sports
Reach Don at donbrown@k105.com