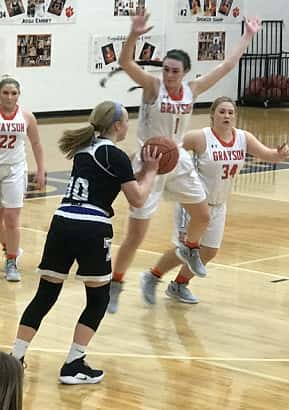 In their last meeting, the Lady Raiders of Whitesville Trinity broke a 40-game losing streak to the Lady Cougars. Last Friday in a rematch, the Lady Cougars started a new streak with a 56-49 win in the Cougar Den.
All five starters for the Lady Cougars scored in double figures, while four of the Whitesville starters reached double figures.
The Lady Cougars built a 20-point lead early in the third quarter, but the Lady Raiders cut it back to 10 points heading into the fourth quarter before the Lady Cougars held on for the seven-point win.
Laura Vincent scored eight of her 10 points in the first period as the Lady Cougars doubled up Whitesville, 16-8. Kenzie Renfrow then scored seven of her 13 points in the second period as the Lady Cougars increased their lead to 16 points, 36-20 at the half.
In the earlier game, freshman Cassidy Morris poured in 33 points to lead the Lady Raiders. She was held to just 12 points in this game, but she scored seven in the third quarter as the Lady Raiders cut the lead to 10 points, 48-38 heading into the fourth quarter.
A three-pointer by Josie Aull with 2:08 remaining to be played cut the lead to nine points, 54-45.
The Lady Cougars led by 11 points, 56-45 with 47 seconds left before Whitesville scored the final four points. Aull led all scorers in the game with 15 points on five made three-pointers. Morris finished with 12 while Nina Wathen and Morgan Kinsey both scored 11.
Renfrow had a fine all -around game. In addition to her team-high 13 points, she led the team with 12 rebounds, eight assists and three steals. Rachael Snyder scored 12 points and grabbed six rebounds.
Bailey Snyder scored 11 points, while Vincent and Kaylee Masden both finished with 10.
With the win, the Lady Cougars secured the number-two seed in the upcoming 12th District Tournament and will face Whitesville again in the first round.
By Don Brown, Local Sports
Reach Don at donbrown@k105.com