It's almost Mardi Gras! Mardi Gras, or Fat Tuesday, refers to events of the Carnival celebration, beginning on or after the Christian feasts of the Epiphany and culminating on the day before Ash Wednesday. Leading up to Lent, Christians would eat all of the forbidden food that was left in their house so their home would be free of temptation during the fasting period—that's where the name Fat Tuesday comes from. The period of Lent begins the day after Mardi Gras, on Ash Wednesday, and ends on Easter Sunday. Mardi Gras has lots of traditions: colors, beads, masks, and costumes. By far the most delicious of New Orleans' Mardi Gras traditions is the King Cake. You can find king cakes lining the walls of local grocery stores.
I have compiled some delicious recipes to help you celebrate like they do in New Orleans.
---
Jambalaya
Ingredients: 
1 pound andouille sausage, sliced
2 tablespoons canola oil
2 cups diced sweet onion
1 cup diced celery
1 large red bell pepper, diced
4 garlic cloves, minced
1 bay leaf
2 teaspoons Creole seasoning
1 teaspoon dried thyme
1 teaspoon dried oregano
2 (10-oz.) cans diced tomatoes and green chiles, drained
3 cups chicken broth
2 cups uncooked long-grain rice
2 cups shredded cooked chicken
1 pound peeled, medium-size raw shrimp, deveined
1/2 cup chopped fresh flat-leaf parsley
Garnish: chopped green onions
How to Make It
Step 1: Cook sausage in hot oil in a Dutch oven over medium-high heat, stirring constantly, 5 minutes or until browned. Remove sausage with a slotted spoon.
Step 2: Add diced onion and next 7 ingredients to hot drippings; sauté 5 minutes or until vegetables are tender. Stir in tomatoes, next 3 ingredients, and sausage. Bring to a boil over high heat. Cover, reduce heat to medium, and simmer, stirring occasionally, 20 minutes or until rice is tender.
Step 3: Stir in shrimp; cover and cook 5 minutes or just until shrimp turn pink. Stir in parsley. Serve immediately.
Step 4: To Freeze: Prepare recipe as directed. Line bottom and sides of a 13- x 9-inch baking dish with heavy-duty aluminum foil, allowing 2 to 3 inches to extend over sides; fill with jambalaya. Cover and freeze. To serve, remove foil, return casserole to original baking dish; cover and thaw in refrigerator 24 hours. Let stand at room temperature 30 minutes. Bake at 350° until thoroughly heated.
Source: MyRecipes.com
---
Crab-Stuffed Catfish Fillets with Cajun Remoulade
Ingredients:
1/2 cup butter
3 celery ribs, diced
1 small onion, diced
1 small green bell pepper, diced
1 tablespoon minced garlic
1 tablespoon fresh lemon juice
2 teaspoons Cajun seasoning
1/8 teaspoon hot sauce
1/2 pound fresh lump crabmeat, drained
1 cup panko (Japanese breadcrumbs)
6 (7-oz.) fresh catfish fillets
1 tablespoon olive oil
1 teaspoon paprika Vegetable cooking spray
Table salt
Freshly ground black pepper
Cajun Rémoulade
How to Make It:
Step 1: Melt butter in a large skillet over medium-high heat; add celery and next 3 ingredients, and sauté 6 minutes or until tender. Stir in lemon juice and next 2 ingredients, and cook 1 minute. Gently stir in crabmeat, breadcrumbs, and, if desired, additional Cajun seasoning and hot sauce. Remove from heat; cool completely (about 15 minutes).
Step 2: Preheat oven to 425°. Butterfly catfish fillets by making a lengthwise cut in 1 side, carefully cutting to but not through the opposite side; unfold fillets.
Step 3: Spoon crab mixture down center of 1 side of each butterflied fillet; fold opposite side over filling. Brush fillets with olive oil; sprinkle with paprika and desired amount of salt and pepper. Place fillets on a wire rack coated with cooking spray in a jelly-roll pan.
Step 4: Bake at 425° for 20 to 25 minutes or until fish flakes with a fork. Serve with Cajun Rémoulade.
Source: MyRecipes.com
---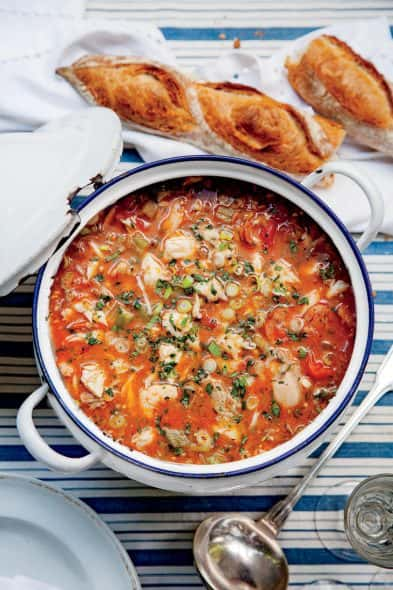 Seafood Gumbo
Ingredients:
1 pound fresh lump crabmeat
3 pounds medium-size raw shrimp (with heads)
Pinch of kosher salt
6 tablespoons oil, divided
2 pounds frozen sliced okra, thawed*
1/2 teaspoon kosher salt
1 pound andouille sausage, thinly sliced
2 tablespoons all-purpose flour
2 cups finely chopped yellow onion
1 cup finely chopped celery
1 cup finely chopped green bell pepper
4 garlic cloves, minced
1 cup chopped green onions, divided
1 (6-oz.) can tomato paste
3 bay leaves
1 teaspoon finely chopped fresh thyme
2 teaspoons kosher salt
1 teaspoon hot sauce (such as Tabasco)
1/4 teaspoon ground red pepper
1/2 teaspoon ground black pepper
1 tablespoon Worcestershire sauce
1 (14.5-oz.) can whole tomatoes, drained and coarsely chopped, liquid reserved
1 pt. oysters (between 2 dozen and 3 dozen)
1/4 cup finely chopped fresh flat-leaf parsley
Hot cooked long-grain rice
How to Make It:
Step 1: Pick crabmeat, removing any bits of shell.
Step 2: Remove shrimp shells and heads. Cover and refrigerate shrimp, and place shells and heads in a large stockpot. Add 8 cups water and a generous pinch of salt, and bring mixture to a boil over high heat. Reduce heat to medium-low, and simmer, partially covered, 1 hour. Cool 30 minutes; pour stock through a fine wire-mesh strainer, and reserve for use in Step Discard shells and heads.
Step 3: Heat 2 Tbsp. oil in a large heavy skillet over medium heat, and add okra. Sprinkle with 1/2 tsp. salt, and sauté 10 minutes. Set aside okra, and wipe out skillet. Heat another tablespoon of oil in skillet over medium-high heat, and sauté andouille about 8 minutes or until brown. Set aside.
Step 4: Heat remaining 3 Tbsp. oil in a large heavy pot over high heat. Add flour, reduce heat to medium, and cook, stirring constantly, about 10 minutes or until roux is a medium-to-dark brown. Add yellow onions, celery, and bell pepper, and sauté 4 to 5 minutes or until vegetables begin to soften. Add garlic and 1/2 cup green onions, and cook 3 more minutes. Stir in tomato paste and next 7 ingredients. Stir in tomatoes and 1/3 cup of their liquid; gradually stir in shrimp stock. Add reserved sausage and okra. Bring to a boil over high heat, and cover. Reduce heat to medium-low, and simmer 30 minutes.
Step 5: Stir in shrimp and remaining green onions, and simmer 3 minutes. Stir in crabmeat, oysters, and parsley, and simmer 1 minute. Remove from heat. Taste and add salt, if desired. Serve over rice.
Step 6: * Fresh okra may be substituted for frozen.
Source: Myrecipes.com
---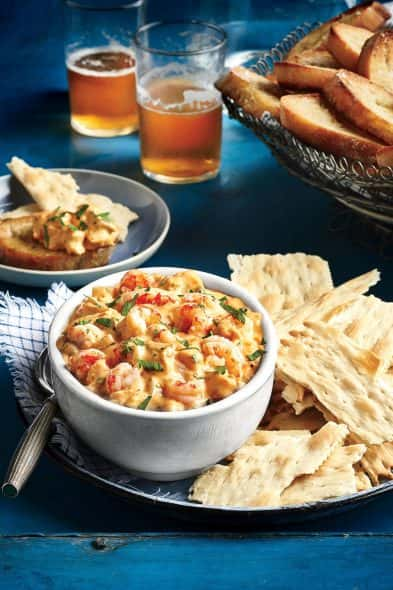 Crawfish Dip
Ingredients:
2 tablespoons salted butter
1/2 cup diced green bell pepper
1 small yellow onion, diced (about 1 cup)
1/2 cup diced celery
3 garlic cloves, chopped
1 jalapeno chile, diced
1 teaspoon kosher salt
1/2 teaspoon black pepper
2 teaspoons paprika
1/2 teaspoon cayenne pepper
1 pound frozen peeled crawfish tails, thawed according to package directions
8 ounces cream cheese, softened
2 cups grated extra-sharp Cheddar cheese (about 8 oz.)
1/4 cup heavy whipping cream
2 tablespoons Creole mustard
1 tablespoon Worcestershire sauce
2 teaspoons hot sauce
2 tablespoons fresh lemon juice
2 tablespoons chopped fresh flat-leaf parsley
Crackers, toasted baguette slices
How to Make It
Step 1: Melt butter in a large sauté pan or skillet over medium. Add bell pepper, onion, celery, garlic, jalapeño, salt, and black pepper, and cook 6 minutes. Add paprika and cayenne pepper, and cook 1 more minute.
Step 2: Place crawfish, cream cheese, Cheddar cheese, and cream in a 6-quart slow cooker. Stir in bell pepper mixture, Creole mustard, Worcestershire sauce, and hot sauce. Cover and cook on HIGH 45 minutes. Reduce heat to WARM. Stir in lemon juice and parsley; serve with crackers or toasted baguette slices.
Source: MyRecipes.com
---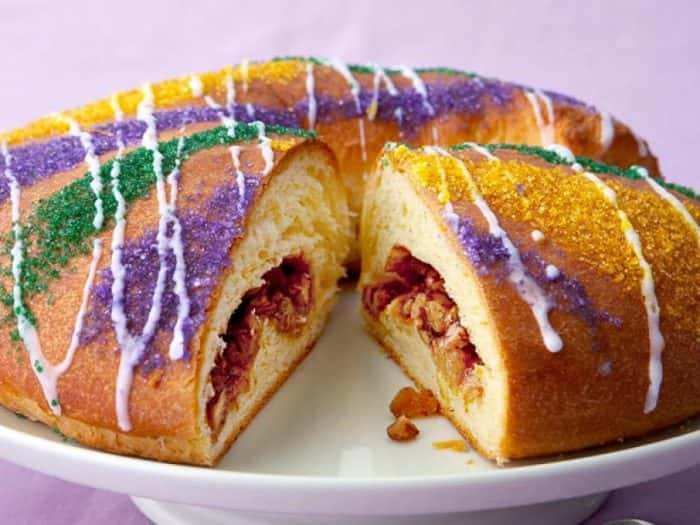 King Cake
Ingredients
For the cake:
1/3 cup milk
1 package active dry yeast
2 1/2 cups bread flour, plus more for dusting
2 large egg yolks, plus 2 eggs
3 tablespoons granulated sugar
Finely grated zest of 1 lemon
1 teaspoon salt
1/2 teaspoon freshly grated nutmeg
1 1/2 sticks unsalted butter, melted and cooled, plus more for greasing the bowl
For the filling and glaze:
1/2 cup golden raisins
1/4 cup bourbon
3/4 cup packed dark brown sugar
2/3 cup toasted pecans, chopped
1 teaspoon vanilla extract
1 teaspoon ground cinnamon
2 teaspoons grated orange zest
1/4 teaspoon salt
1 dry bean or plastic King Cake baby (available at party-supply stores or mardigrasday.com)
1/2 cup confectioners' sugar
Purple, green and gold sanding sugar, for decorating
Directions:
Special equipment: 1 dry bean or plastic King Cake baby (available at party-supply stores or mardigrasday.com)
For the cake: 
Heat the milk in a saucepan until scalding; transfer to a food processor, add the yeast and pulse to combine. Add 1/2 cup flour and the egg yolks; process to combine. Pour the remaining 2 cups flour evenly over the yeast mixture; do not process. Put the lid on; set aside for 90 minutes.
Add the 2 whole eggs, granulated sugar, lemon zest, salt and nutmeg to the food processor; process to make a slightly textured dough, about 1 minute. With the machine running, slowly add the butter to make a smooth, sticky dough. Transfer the dough to a lightly buttered bowl and cover tightly with plastic wrap; let rise in a warm place for 3 hours. Turn the dough out onto a clean surface and knead briefly; form into a ball and return to the bowl. Cover tightly with plastic wrap and refrigerate for 8 hours or overnight.
For the filling: 
Plump the raisins in the bourbon in a small saucepan over medium heat. Remove from the heat and add the brown sugar, pecans, vanilla, cinnamon, orange zest, salt and the bean or plastic baby; mix until combined and set aside.
On a floured surface, roll the dough into a 20-by-7-inch rectangle, with the long edge facing you. Spoon the filling in an even layer over the dough, leaving a 1-inch border along the top and bottom. Fold the bottom and then the top edge over the filling to make a tight roll; pinch to seal. Transfer the roll seam-side down to a parchment-lined baking sheet; tuck one end into the other to form a ring. Cover loosely with plastic wrap and set aside in a warm place until the roll doubles in size, about 2 hours.
Preheat the oven to 350 degrees. Bake the cake until firm and golden brown, about 40 minutes. Cool on a rack.
For the glaze: Mix 3 tablespoons water with the confectioners' sugar; brush 3 tablespoons glaze over the cake. Sprinkle with bands of colored sugar; drizzle with more glaze.
Source: FoodNetwork.com
---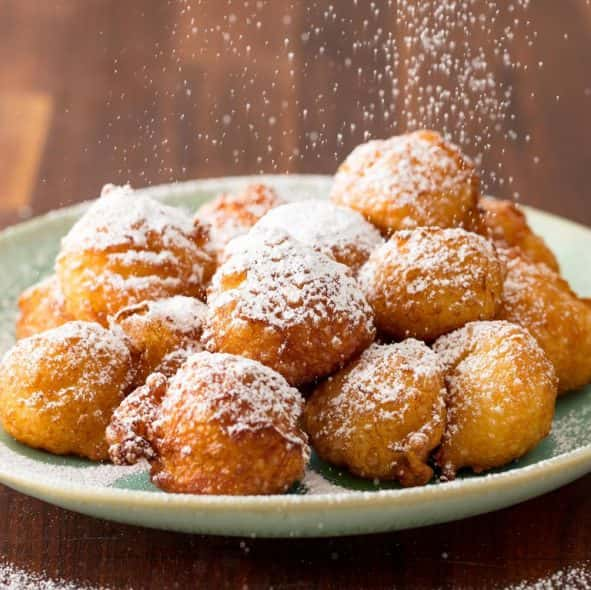 Beignet
Ingredients: 
1 c. all-purpose flour
1 tsp. baking powder
1/8 tsp. kosher salt
2 large eggs, separated
3/4 c. granulated sugar
1 tbsp. melted butter
1 tsp. pure vanilla extract
Vegetable oil, for frying
Powdered sugar, for dusting
Directions:
In a large bowl, whisk together flour, baking powder, and salt. In another large bowl, combine egg yolks, sugar, ¼ cup water, melted butter, and vanilla and stir to combine. Fold into dry ingredients until just combined.
In a large bowl using a hand mixer, beat egg whites on medium speed until soft peaks form, then fold into batter.
In a large pot, heat oil to 375º. Drop small spoonfuls of batter into hot oil and fry until golden, about 5 minutes. (You want to keep the oil at 375º to make sure they cook all the way through.) Transfer to a paper towel-lined plate.
Dust with powdered sugar before serving.
Source: Delish.com
---
I hope you enjoy these recipes!
Until next time!